Cottage Cheese Casserole with Dried Apricots
by Editorial Staff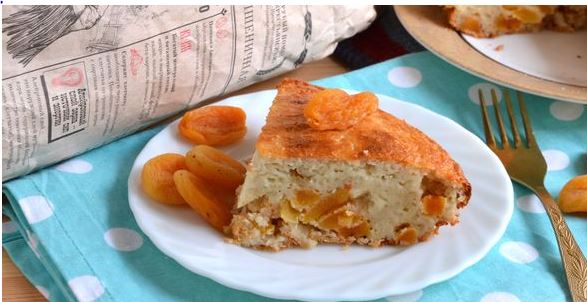 I bring to your attention an excellent recipe for a healthy diet – a healthy cottage cheese casserole with dried apricots and wheat flour "Ryazanochka" of coarse grinding "Krestyanskaya".
Cook: 55 minutes
Servings: 5
Ingredients
Cottage cheese 5% -9% (homogeneous, pasty) – 500 g
Dried apricots – 100-150 g
Eggs – 2 pcs.
Sugar – 4 tbsp
Flour "Ryazanochka" wheat "Peasant" coarse grinding – 4 tbsp
Vanilla sugar – 10 g
Ground cinnamon – 1 teaspoon
Baking powder – 1 teaspoon with a small slide
Soda – 0.25 teaspoon
Salt – 1 pinch
Semolina – for sprinkling the mold
Butter – for greasing the mold
Directions
Wash dried apricots and cover with warm water for 15 minutes.
In a bowl, combine cottage cheese, eggs, sugar, cinnamon, baking soda, baking powder, salt. If you have non-uniform granular cottage cheese, then it is better to first wipe it through a sieve.

Mix everything thoroughly. You can beat with a mixer or use a blender.
Add 3 tbsp of wheat flour "Ryazanochka" of coarse grinding "Peasant".
Dry dried apricots, cut into pieces, and mix with 1 tablespoon. a spoonful of flour. Add dried apricots to the curd mass. Stir

Grease a baking dish with a little butter and sprinkle with semolina. If you are using a silicone mold, then you can skip this. Place the curd mass into a baking dish and smooth the surface with a spatula.
Cook the curd casserole in an oven preheated to 180 degrees for about 30-35 minutes. If you have a ceramic pan, like mine, then put it in a cold oven, set the temperature to 180 degrees, and bake the curd casserole for about 45 minutes.
Cottage cheese casserole with dried apricots is ready.
Bon Appetit!
Also Like
Comments for "Cottage Cheese Casserole with Dried Apricots"