Cottage Cheese Casserole with Apricots
by Editorial Staff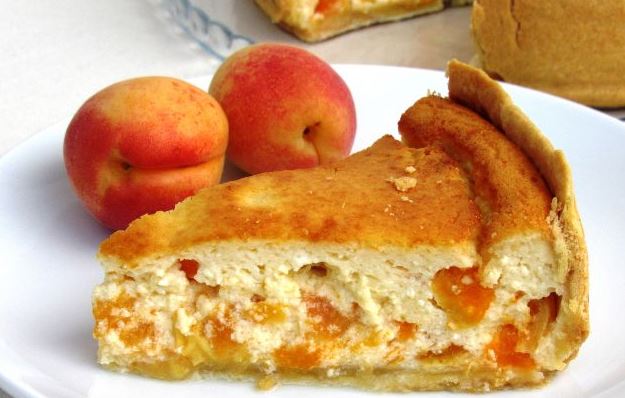 Cottage cheese casserole is one of the most delicious ways to feed your child with healthy cottage cheese. Appetizing casserole with a golden-brown crust combined with shortbread dough will delight both children and adults.
Ingredients
For the test:
Butter – 100 g
Flour – 1.5 cups
Yolk – 1 pc.
Salt – a pinch
Water – 3 tbsp
For filling:
Apricots – 17-18 pcs.
Sour cream 15% – 300 g
Cottage cheese 6% – 400 g
Sugar – 0.5 cups
Eggs – 3 pcs.
Protein – 1 pc.
Flour – 3 tbsp
Directions
Mix butter with flour until finely crumbled. In a separate bowl, whisk water and 1 egg yolk with salt. Mix both masses and knead the shortbread dough.
Wrap the dough in plastic wrap and place in the freezer for 30-40 minutes.
At this time, we will deal with the filling, for this, we will cut the apricots into small pieces.

In a deep bowl, use a mixer to combine the curd and sour cream. In another bowl, beat 3 eggs, 1 protein leftover from the dough, sugar. Gently pour the egg mixture into the curd and add the flour and apricots. Mix everything thoroughly until smooth.
Take the dough out of the freezer, roll it into a circle and place it in a split mold with a diameter of 24 cm, forming high sides. Gently pour the apricot/curd mixture onto the dough.
You need to bake cottage cheese casserole with apricots in a preheated oven at 170 degrees for about 70 minutes.
Cottage cheese casserole with apricots is ready. The casserole should be allowed to cool completely, then cut into pieces and serve.
Bon Appetit!
Also Like
Comments for "Cottage Cheese Casserole with Apricots"