Muffins with Sour Cream, Dried Apricots and Raisins
by Editorial Staff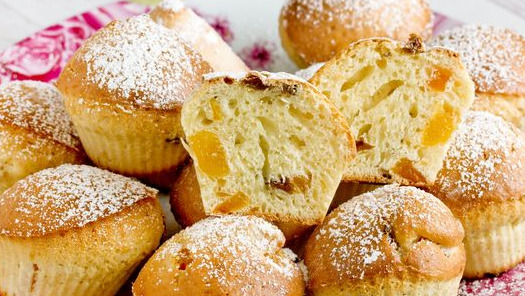 Sour cream muffins with dried apricots and raisins are baked goods for all occasions. Beautiful in section, fragrant, soft, porous, perfectly baked – just a miracle, not muffins! What is also remarkable is that neither butter nor sunflower oil is used in the recipe. I love homemade cakes of this kind and I highly recommend this recipe to you!
Servings: 12
Ingredients
Sour cream – 230 g
Eggs – 2 pcs.
Sugar – 200 g
Flour – 230 g (1.5 cups of 250 ml)
Baking powder – 1 teaspoon with a slide
Dried apricots – 50 g
Raisins – 50 g
Directions
Combine eggs and sugar in a bowl.
Beat the eggs with sugar on a high mixer speed for about 2 minutes, until a light, dense foam is obtained.
Add sour cream (I used 20% sour cream).
Whisk until smooth.
Mix flour with baking powder and sift into a bowl with the base of the dough.
Stir the dough on a slow mixer.
Rinse and dry the raisins and dried apricots. Cut dried apricots into small cubes, proportional to the raisins. Add raisins and dried apricots to the dough.
Stir the dough so that the additives are evenly distributed in it.
Divide the dough into muffin tins (I used silicone tins, I didn't grease them with anything).
From this amount of dough, 12 muffins are obtained.
Bake muffins with sour cream, dried apricots, and raisins, in an oven, preheated to 180 degrees for about 30 minutes.
Transfer the finished muffins to a plate. When they're cool, you can sprinkle them with powdered sugar.
Muffins with sour cream, dried apricots, and raisins, can be served.
Enjoy your meal!
Also Like
Comments for "Muffins with Sour Cream, Dried Apricots and Raisins"