Apricot Sour Cream Jelly with Chocolate
by Editorial Staff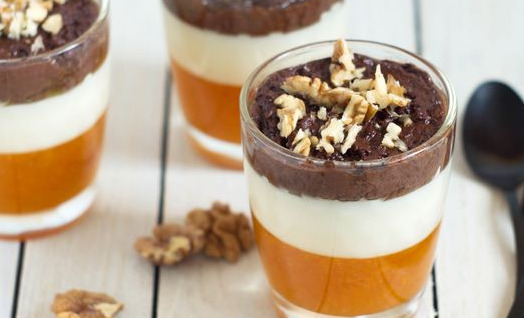 An interesting multi-layered dessert is made from apricot puree, sour cream, and chocolate! Agar is used as a gelling ingredient. The dish is spectacular visually and original in taste. The chocolate layer is the densest, the sour cream layer is very tender, and the apricot layer is the brightest in taste: an amazing combination!
Ingredients
For the apricot layer:
Directions
Squeeze the juice out of the orange and measure out 50 ml.
Wash the apricots, divide them into halves, and remove the seeds. Cut the pulp of the apricots into large pieces and place them together with the orange juice in a saucepan with a thick bottom.
Cover, bring to a boil, and cook for 5-6 minutes. The apricots should soften well.

Whisk soft apricots with a blender into a smooth puree or rub through a fine strainer.
Add sugar to the apricot puree. While stirring, heat to a boil.
Combine agar-agar and water to make apricot jelly, stir and pour into the boiled puree.
While stirring, simmer for 2-3 minutes and set aside to cool the jelly.

Arrange the warm, still running jelly in the cups, filling them about one-third of the height. Leave the jelly until solid. The rest of the jelly can be transferred to a separate container.
Combine agar-agar for making a sour cream layer with water, mix and set aside for 40 minutes. Agar-agar can be stirred periodically.
Put the sour cream in a saucepan with a thick bottom and, stirring occasionally, bring to a boil. Add sugar, stir.
Pour in the water with agar-agar, mix and after boiling, boil for 3-4 minutes. Remove from heat and let cool.
Sour cream jelly that has cooled, warm, but has not yet begun to harden, arrange in cups on top of the apricot layer, filling the cups by another 1/3 of the height. Leave to freeze. You can put the cups in the refrigerator, but thanks to the use of agar-agar, the jelly will solidify well at room temperature.
Prepare the final chocolate layer: put the sour cream in a saucepan with a thick bottom and bring to a boil. Break the chocolate into pieces and add to the sour cream. Stir until the chocolate is completely melted.
Remove from heat, add butter, and stir until smooth. Depending on the quality of sour cream and chocolate, the mass can be more or less smooth.
Put the chocolate mass on top of the hardened sour cream layer, smooth, and refrigerate for an hour to harden.
Enjoy your meal!
Also Like
Comments for "Apricot Sour Cream Jelly with Chocolate"