Sour Cream Jelly with Banana and Cocoa
by Editorial Staff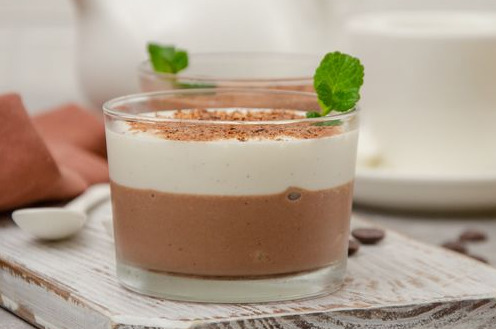 A delicious and delicate dessert can be easily prepared from simple and affordable products. Sour cream jelly turns out to be tender, and thanks to the chocolate layer it has a rich taste. Banana slices give this two-tone sour cream jelly not only sweetness but also a pleasant fruity note.
Cook: 1 hour 50 minutes
Servings: 4
Ingredients
Directions
Pour instant gelatin with cold boiled water.
Leave for 5-10 minutes to swell the gelatin.
Combine sour cream, sugar, and vanilla sugar in a bowl.
Stir the mixture with a whisk until the sugar is completely dissolved.
Divide the sour cream mixture into 2 equal parts.
Take 3-4 tablespoons from one bowl. tablespoons of sour cream and combine them with cocoa powder.

Stir and send the resulting mixture to the microwave for 30-40 seconds (800 W) to bring the mixture to a boil.
Remove the mixture from the microwave oven, strain through a fine sieve put back into the same bowl with the sour cream. Mix thoroughly.
Gently heat the swollen gelatin until it dissolves in the microwave at minimum power in pulses for several seconds. Do not bring it to a boil!
Divide the gelatin into 2 equal parts and add to each bowl with the sour cream, while stirring thoroughly with a whisk.
Peel the banana and cut it into small pieces. Place banana slices on the bottom of glasses or bowls.

On top of the bananas, pour part of the mass of the same color (in two glasses – part of the usual sour cream, in the remaining two – part of the chocolate). Send the filled glasses to the refrigerator for about 30 minutes to set the jelly on top.
When the first layer of jelly has set, spread the remaining mass of a different color on top. If during the hardening of the first layer it also managed to grab a little, then gently heat the mass in the microwave at minimum power (literally 5-10 seconds) so that it becomes liquid again. Choose the order of distribution of light and dark mass at your discretion. Send the dessert to the refrigerator until it solidifies completely (at least 1 hour).
Enjoy your meal!
Also Like
Comments for "Sour Cream Jelly with Banana and Cocoa"