Sour Cream Strawberry Jelly
by Editorial Staff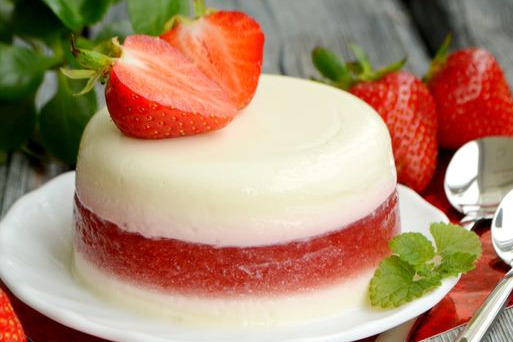 A beautiful summer dessert of sour cream jelly and fresh strawberries has the most delicate texture and delicious taste. Such a sour cream-strawberry dessert can be prepared in the form of a three-layer jelly, or you can make more layers if you have time.
Cook: 1 hour 30 minutes
Servings: 4
Ingredients
Strawberry – 200 g
Sour cream – 450 g
Sugar – 100 g
Milk – 70 ml
Gelatin – 20 g
Fresh mint for garnish – to taste
Directions
Pour 10 g of instant gelatin into the milk and leave for 5-7 minutes to swell.
Combine 50 g of sugar with sour cream in a whipping container.
Whisk the sour cream with sugar until it slightly increases in volume and the sugar dissolves.
During this time, the gelatin swelled. Heat slightly in a microwave oven until warm (do not boil!) So that the gelatin is completely dissolved in the milk.
Combine milk with gelatin and cream and sugar together.
Fill one-third of the molds with sour cream and refrigerate for 20 minutes, until solid.

In a blender bowl, combine the strawberries with the remaining sugar and puree until the sugar dissolves.
Pour the remaining gelatin with 70 ml of water and leave to swell. After 5-7 minutes, lightly heat a glass of water and gelatin in a microwave oven, without boiling. Stir until the gelatin is completely dissolved.
Combine the strawberry puree with gelatin, stir.
Remove the tins with sour cream from the refrigerator. Fill another third with the strawberry puree. Place the molds back in the refrigerator to set. Save a few spoons of strawberry to decorate the dessert.

Pour the remaining sour cream on top of the strawberry jelly and let it set again.
Apply a few drops of strawberry jelly to the surface of the sour cream layer and use a toothpick to brush it drop by drop, forming patterns.
Milk strawberry jelly is ready. Garnish with fresh mint and serve.
Enjoy your meal!
Also Like
Comments for "Sour Cream Strawberry Jelly"