Sour Cream Jelly with Bananas
by Editorial Staff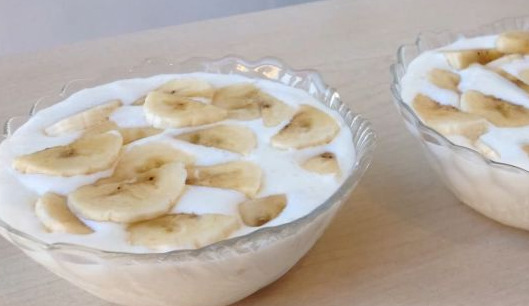 I recommend to all jelly lovers to prepare a very tender and delicious sour cream dessert with bananas. The recipe will delight you with its simplicity and ease.
Ingredients
Sour cream 20-25% – 0.5 l
Powdered sugar – 150 g
Vanillin
Banana – 2 pcs.
Gelatin – 25 g
Water – 100 g
How to make banana sour cream jelly:
Directions
Pour the gelatin into a deep container and slowly, stirring, fill with water at room temperature. Leave for 20 minutes to solidify the mixture.
Mix the powdered sugar with vanilla. Beat the sour cream at a slow speed, but not very long, so that it does not turn into butter. When the sour cream turns into a fluffy mass, gradually add the powdered sugar and beat. As a result, sour cream will significantly thinner and increase in volume.
When the gelatin hardens, melt it in the microwave or in a water bath, not letting it boil. Cool to room temperature and gradually pour into sour cream. Stir until smooth and at the end beat gently with a mixer.
Cut the bananas into semicircles.
Put bananas at the bottom of a deep container in which you will serve jelly.
Pour a little sour cream and put the bananas out again.
We repeat the steps until the place in the plate runs out. We send sour cream jelly with bananas to the refrigerator until it solidifies.
Bon Appetit!
Also Like
Comments for "Sour Cream Jelly with Bananas"