Curd Milk Jelly with Cocoa
by Editorial Staff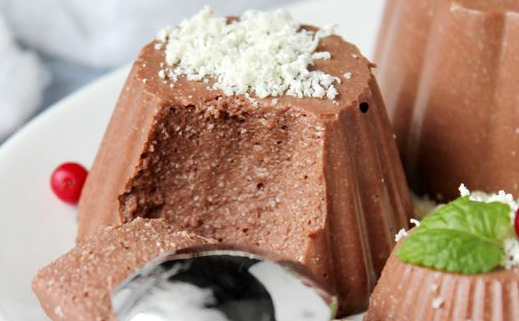 Delicious and very chocolate cottage cheese jelly will become a favorite delicacy for many. Plus, you can easily feed any fussy who doesn't like cottage cheese.
Cook: 5 hour
Servings: 4
Ingredients
Directions
Mix gelatin with cold boiled water and leave for 40 minutes to swell.
Rub the curd through a fine sieve.
Sift cocoa powder into a bowl of cottage cheese.

Add sugar, stir.
Pour milk into a bowl with curd mass.

Punch everything with a blender until smooth.
Melt swollen gelatin to a liquid state in a water bath or in a microwave oven at minimum power in pulses for several seconds. Add one tablespoon of curd-chocolate mass to the dissolved gelatin and mix.
Pour the stirred gelatin into a bowl of chocolate and curd and beat with a blender until smooth.
Pour the resulting mass into molds (I used silicone ones). Put the molds in the refrigerator for 3-4 hours, until the dessert hardens.
Remove the finished curd jelly from the molds and decorate as you wish. I decorated it with white grated chocolate, cranberries, and mint leaves.
Enjoy your meal!
Also Like
Comments for "Curd Milk Jelly with Cocoa"