Curd Smoothie with Cherry and Cocoa
by Editorial Staff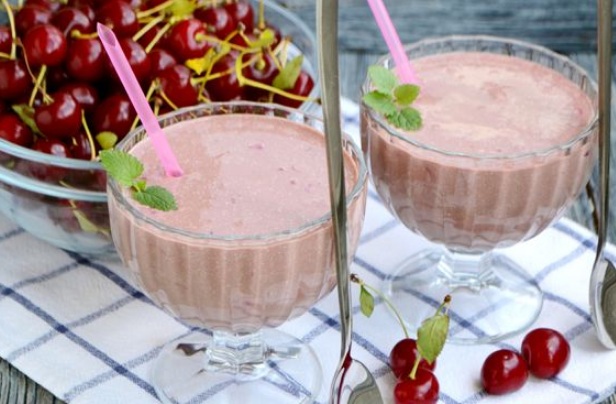 A healthy, nutritious, and tasty drink that takes 2-3 minutes is cottage cheese and kefir smoothie with the addition of honey, cocoa powder, and cherries.
Cook: 5 min.
Servings: 2
Ingredients
Kefir – 200 ml
Cottage cheese – 100 g
Cherries – 50 g (pitted weight)
Honey – 1-2 tbsp
Cocoa powder – 1-2 tbsp
For the filling (optional):
Directions
Cherries can be used both fresh and frozen. The density of the drink can be regulated by the amount and fat content of fermented milk products – kefir and cottage cheese. Honey can be replaced with sugar or no sweetness at all.
If you have fresh cherries, remove the twigs and seeds using a special tool or using a teaspoon handle.
Transfer the curd to the blender bowl.
Add pitted cherries to the curd, pour in all the juice from the berries that have come out.
Pour kefir into the blender bowl.
Add honey.
Add cocoa powder to the rest of the ingredients.
Grind all ingredients with an immersion blender until smooth.
If you turn on the blender for only 1 minute, the drink will turn out to be liquid, homogeneous, with very small grains of cottage cheese.
Pour the smoothie into glasses, bowls, or glasses.
Cottage cheese smoothie with cherries and cocoa is ready. Add fresh mint and straws and serve.
A vitamin drink made from fresh berries, cocoa powder, and fermented milk products will refresh and saturate. Bon Appetit!
Also Like
Comments for "Curd Smoothie with Cherry and Cocoa"