Creamy Curd Casserole with Cocoa
by Editorial Staff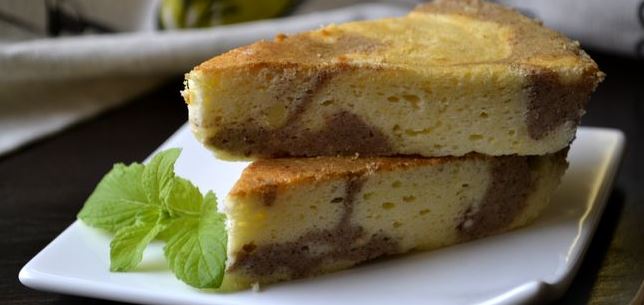 Incredibly tender, a little cheesecake-like two-tone casserole made of soft cottage cheese and cream. Corn flour and starch are added to the dough, and the dark part is made with the addition of cocoa. The taste of this casserole will surpass all your expectations!
Cook: 2 hours 10 minutes
Servings: 8
Ingredients
Cottage cheese (soft) – 250 g
Cream 30% – 120 ml
Butter (softened) – 50 g
Eggs – 4 pcs.
Sugar – 100 g
Corn flour – 30 g
Corn starch – 30 g
Cocoa powder – 2 teaspoon
Salt – 1 pinch
Directions
Divide the eggs into whites and yolks. Protein dishes must be absolutely clean and dry, like a whisk. Add a pinch of salt and half the sugar to the proteins. Beat egg whites with a mixer until whitened and stable peaks. In another bowl, add the remaining sugar to the yolks.
Whisk the egg yolks with sugar until whitened and bulky. Add cream, soft cottage cheese, and soft butter to the whipped yolks. Mix all ingredients gently. Combine the cornmeal and cornstarch in a separate bowl.

Pour the flour and starch into a bowl of yolks. Stir the mixture until smooth. In two or three steps, add the whipped proteins, gently introducing them into the mass with a silicone spatula, from the bottom up. The result should be a tender, very airy dough.
Turn on the oven to heat up to 140 ° C. Pour the dough into a suitable mold 2/3 of the dough (I will have two cakes with a diameter of 20 cm and I use 2 molds). Pour the sifted cocoa powder into the remaining dough. Stir.
Gently pour the chocolate dough into the light dough mold. Use a stick to make a random pattern to mix the light and dark dough.
Place the baking tins on a baking sheet. Fill a baking sheet to a depth of 2-3 cm with hot water and place in the oven.

Bake the cake for the first 30 minutes at 140 ° C. Then reduce the temperature to 120 ° C and bake the cake for another 30 minutes. Check the readiness of the cake with a wooden toothpick: after piercing the finished cake, it should come out of it dry. If the cake is ready, turn off the oven, open the door slightly and leave the cake in the oven for another 30 minutes.
Then leave the cake at room temperature to cool completely. Place the cooled pie in the refrigerator for 3-4 hours, or better overnight.
Morning has come, and it's time to taste the curd-creamy casserole with cocoa. Delicate, with a curd-creamy taste, baked goods will conquer everyone, without exception, who tries it
Bon Appetit!
Also Like
Comments for "Creamy Curd Casserole with Cocoa"