Curd Casserole "Original"
by Editorial Staff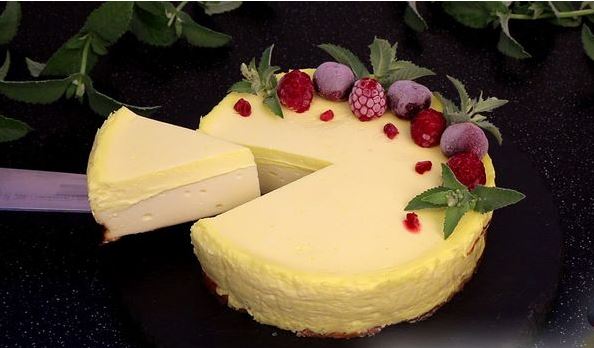 Delicious, tender, and unusual curd casserole is obtained according to this recipe. It consists of two layers – cottage cheese and sour cream, which looks more like delicate buttercream. Everything seems to be very simple, but the taste is original. Join us!
Cook: 20 minutes
Servings: 8
Ingredients
For the curd layer:
Cottage cheese – 400 g
Egg – 1 pc.
Corn starch – 20 g
Sugar – 80 g
Vanillin – 1 pinch
Salt – 1 pinch
For the sour cream layer:
Sour cream (not less than 20% fat) – 300 g
Yolk – 1 pc.
Sugar – 50 g
Corn starch – 10 g
Vanillin – 1 pinch
To lubricate the mold:
Directions
Preparing products for the curd layer. I have purchased cottage cheese, in packs, 5% fat. I add salt, vanillin, sugar, and egg to the cottage cheese and punch it with a submersible blender until smooth so that there are no lumps at all. Add the starch and mix (with a spatula or again with a hand blender). The mass should turn out to be homogeneous, creamy.

I will bake in a split form with a diameter of 16 cm. Grease the bottom and sides of the form with butter and line with parchment. I pour the curd mass into a mold, level it. I hit the table a couple of times so that there are no voids. I send it to the oven, preheated to 160 degrees, for 25-30 minutes.
Meanwhile, I'm preparing the second layer – sour cream. I add yolk, vanillin, sugar to sour cream (I have 20 percent fat) and mix everything well. I add starch and mix again.

When the curd layer is ready (during baking, it may slightly swell or rise – it's okay, after 30 seconds the casserole will fall off by itself), immediately pour the sour cream layer onto it. And again I put it in the oven for 15 minutes at a temperature of 160 degrees.
As time passes, the top of the casserole will shake slightly, like a cheesecake. I leave the cottage cheese casserole in the oven turned off, but with the door ajar until it cools completely.
Then, it is advisable to put the curd-sour cream casserole for a couple of hours (or overnight) in the refrigerator, wrapping it with cling film.
All good mood and pleasant tea!
Also Like
Comments for "Curd Casserole "Original""