Curd Jelly
by Editorial Staff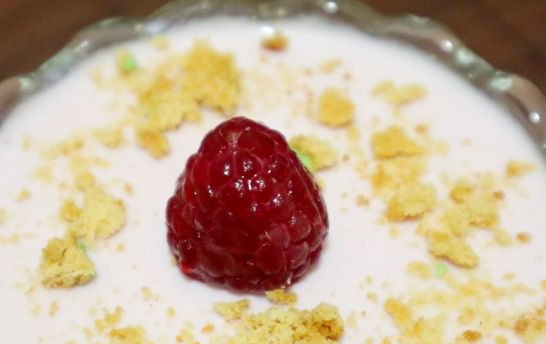 Blancmange – this is what the French call a delicacy made of milk, sugar, and gelatin. The addition of cottage cheese makes it even healthier, and thanks to the freshly frozen raspberries, the jelly "sounds" quite like summer.
Ingredients
Low-fat cottage cheese – 250 g
Milk – 100 g
Sour cream 10% – 100 g
Powdered sugar – 100 g
Fresh frozen raspberries – 50 g
Gelatin – 15 g
Vanilla sugar – 10 g
How to make curd jelly:
Directions
I pour gelatin into a container and fill it with milk so that it swells.
Put the berries in a small saucepan or bowl and add 2 tablespoon. tablespoons of drinking water.
For 2-3 minutes, I boil raspberries over low heat, otherwise, when adding them to dairy products, there is a risk that they will curl.
I put cottage cheese, sour cream, powdered sugar, and vanilla sugar into the food processor from the food processor.
I put the processor in the socket and turn on my assistant. This process can also be entrusted to a blender – the main thing is to get a homogeneous mass.
Once again, I beat everything well so that I get a curd mass of pale pink color.
I put milk with gelatin on minimum heat. On the silicone spatula, grains of gelatin are visible, which I need to dissolve, but at the same time do not allow it to overheat and boil. Periodically removing the saucepan from the heat and constantly stirring its contents, I make sure that there are practically no grains on the spatula.
After that, I remove the milk-gelatin mixture from the heat and add it to the curd mass.
I thoroughly mix all the ingredients and put the mass in tins in the form of Barney bears and in bowls. I put them in the refrigerator to solidify completely. It took me 2 hours for this, but dessert in deeper forms can freeze for 4-5 hours.

After checking the jelly for elasticity, I take it out of the refrigerator and try to carefully remove it from the molds. To do this, you can immerse them in hot water for a few seconds. I decorated the curd jelly with gingerbread crumbs and defrosted berries. It turned out very tasty!
Enjoy your meal!
Also Like
Comments for "Curd Jelly"