Cranberry Jelly
by Editorial Staff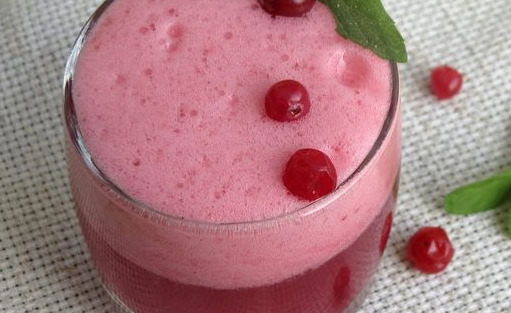 Cranberry jelly is a healthy, tasty, and beautiful dessert. It can be prepared with both fresh and frozen cranberries. Jelly is rich in vitamins and nutrients.
Cook: 4 hour
Servings: 3
Ingredients
Cranberries – 160 g
Sugar – 100 g
Water – 500 ml
Instant gelatin – 10 g
Fresh mint for decoration – a few leaves
Directions
We sort out the cranberries (a few berries can be set aside for decoration), rinse and grind with an immersion blender until smooth.
Grind the cranberry mass through a sieve.

We get the cranberry puree. We do not throw away the cake.
Pour 400 ml of water into a saucepan, add the resulting cake, add sugar and bring to a boil. Cook over low heat for 2-3 minutes, until the sugar is completely dissolved. Let the mixture cool slightly.
Combine gelatin with 100 ml of water, mix. Heat over low heat until dissolved, do not bring to a boil.
Add the dissolved gelatin to the slightly cooled cranberry mixture.
Filter the resulting mixture.

Combine the filtered solution with cranberry puree and mix. Let it cool to room temperature.
Pour 2/3 of the cranberry mass into glasses. We fill the glasses not to the brim, leave room for the foam. Put the cranberry jelly in the refrigerator until it solidifies. My jelly froze in 1 hour and 40 minutes.
Cool the remaining 1/3 of the cranberry mass. Inconsistency will be similar to liquid jelly.
Beat with a blender until airy foam forms.
Spread the foam on top of the frozen jelly with a spoon. We put it in the refrigerator until it solidifies.
Ready-made cranberry jelly can be decorated with berries and mint leaves.
Enjoy your meal!
Also Like
Comments for "Cranberry Jelly"