Cranberries in Sugar
by Editorial Staff
I love cranberries very much, but you can't eat a lot of raw cranberries – it's too sour. Therefore, every year I make cranberries in sugar. It turns out to be a very tasty dessert snack. I am sharing a recipe for cranberries in sugar.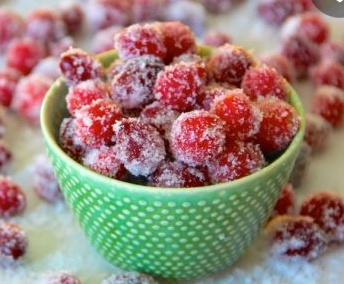 Cook: 19 hours
Serving: 4
Ingredients
Directions
First, painstaking work. You need to sort out the cranberries, throw away all the spoiled ones. Then, with a toothpick, pierce each berry.
In a small saucepan, combine the water and 2 cups of sugar. Bring to a boil and cook over medium heat until sugar dissolves. Pour the berries with the resulting syrup.
We cool the berries with syrup to room temperature, then cover with cling film and send to the refrigerator overnight.
The next day we drain the syrup (by the way, this turns out to be the tastiest and most useful cranberry syrup – in no case throw it away, it must be used), and sprinkle the berries with the remaining sugar.

Thoroughly roll the berries in sugar, they should be completely covered with it.
That's all – the cranberries in sugar are ready. You can store it in a dry place for no more than a few days.
Bon appetit!
Also Like
Comments for "Cranberries in Sugar"