Deep-Fried Curd Donuts with Prunes and Dried Apricots
by Editorial Staff
We fell in love with curd balls or donuts, as they are called in our family, for a long time. But I only recently came up with the idea of ​​putting the filling in the form of dried apricots or prunes inside. Children are even more delighted with such a sweet surprise in a donut!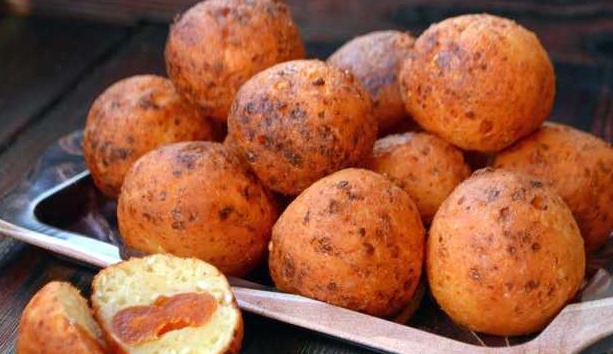 Servings: 4
Cook: 40 minutes
Ingredients
Cottage cheese – 250 g
Prunes – 8 pcs.
Dried apricots – 8 pcs.
Wheat flour – 120 g
Egg – 1 pc.
Sugar – 50 g
Baking powder for dough – 1 tbsp
Vanillin – 1 pinch
Sunflower oil – 400 ml
Directions
Prepare all ingredients. For donuts, both fatty homemade cottage cheese and store-bought fat content of 5-9% are suitable.
Put cottage cheese, sugar, vanillin and egg in a deep bowl and stir with a fork or whisk.
Mix flour with baking powder and add to a bowl. Knead the dough.

The dough sticks a little to your hands, but do not add more flour, otherwise the donuts will not be so airy. Form a sausage out of it and place on a floured board.
Pour dried apricots and prunes with boiling water for 15 minutes, then dry.
Cut the dough into 15-16 equal pieces. Form a flat cake from each piece and place the filling in the center – dried apricots or prunes. If the dough sticks strongly to your hands, moisten your hands with water.
Use your hands to form a ball with the filling inside.
Heat vegetable oil in a saucepan or deep frying pan. Heat up medium. Place a few balls of curd in the butter so that there is a distance between them, as they increase in size when frying.

Fry the donuts in oil for about 5-6 minutes. You do not need to turn them over, as they spin themselves and are evenly fried from all sides.
Put the finished donuts on a paper towel to get rid of excess oil. Send a new batch of donuts to the stewpan for frying.
From the specified number of products, 15 perfectly smooth curd donuts were obtained.
A surprise in the form of dried apricots and prunes inside, tender airy curd dough and golden brown crust – the perfect treat!
With aromatic coffee, these curd donuts will be a great start to the day, a sweet snack or an original dessert. Bon Appetit!
Also Like
Comments for "Deep-Fried Curd Donuts with Prunes and Dried Apricots"