Curd Bagels (Donuts)
by Editorial Staff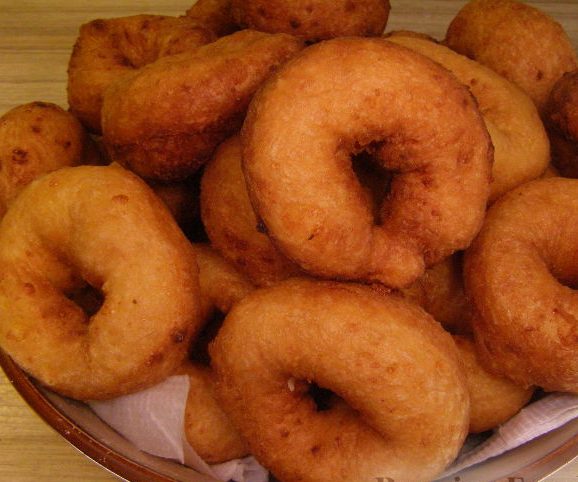 Delicious donut donuts made from cottage cheese, eggs, sugar, and flour are a treat that you can sometimes afford. And how kids love donuts!
Ingredients
Cottage cheese (homemade) – 300-400 g
Eggs – 2 pcs.
Sugar – 200 g
Soda – 1 teaspoon
Flour – about 1.5-2 cups
Deep fat oil (it took me 200-250 g)
Directions
Mix cottage cheese, eggs, sugar, soda (I extinguished with vinegar, but this is not necessary). Add enough flour to make a soft dough that sticks a little to your hands.
Form bagels. Can be rolled out and cut out with molds. It's easier for me to pinch off the pieces of dough, roll the "sausage" between the palms and dazzle the edges.
In a cauldron, heat the vegetable oil well. It took me about 200-250 grams for a small cauldron.
(The degree of heating of the oil can be checked with a piece of dough, around which the oil should boil noticeably.)Gently spread the curd donuts in hot butter.
Attention! Keep in mind that donut bagels grow a lot in size (seen in the photo).
Fry curd donuts on both sides until golden brown (donuts fried quickly).
Carefully take out the finished curd donuts with a fork and put them on a paper towel (napkin). You can sprinkle with icing sugar.
Bon Appetit!
Also Like
Comments for "Curd Bagels (Donuts)"