Curd Donuts-9
by Editorial Staff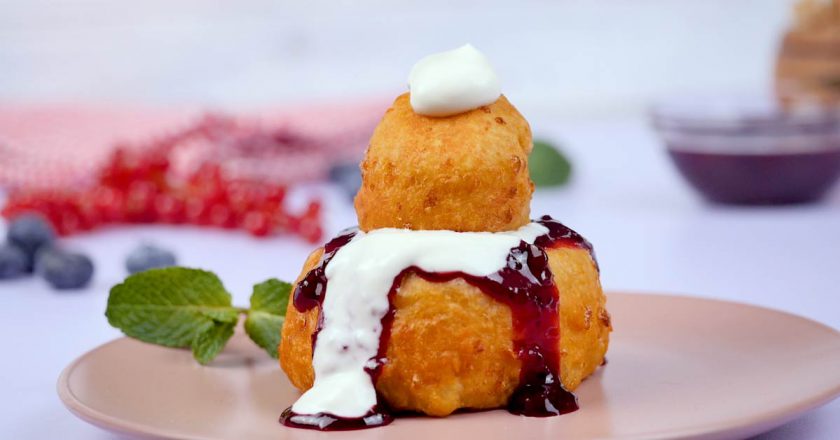 Curd donuts, it is quite easy to make at home from the most affordable products.
Ingredients
Cottage cheese 500 g
Wheat flour 300 g
Egg 2 pcs.
Soda 1 teaspoon
Vanilla extract 1 teaspoon
Vanilla sugar 30 g
Lemon zest 15 g
Salt 1 chips.
Sour cream 200 g
Raspberry jam 150 g
Sunflower oil 300 g
Directions
Grind the curd through a sieve into a bowl, add the eggs, vanilla extract, vanilla sugar, a pinch of salt, lemon zest, baking soda and stir thoroughly with a spoon until smooth.
Pour the flour in portions, stirring the mixture well. Then knead the dough with your hands and let it stand for 10 minutes.
After the dough has rested, dip your hands in flour, tear off a small lump of dough and weigh: each donut should weigh 120 g. Then tear off a smaller lump of dough weighing 40 g (it will be a bun). Form 6 donuts and 6 koloboks.
Heat refined sunflower oil in a deep frying pan, dip a donut with a bun in it. Fry the curd donuts in oil over medium heat for 2-3 minutes on both sides until golden brown.
Remove the finished donuts and their balls with a slotted spoon, put them on a paper towel to remove excess fat. Pour sour cream and jam over the curd donuts, insert the ball into the hole and pour over the sour cream again.
Also Like
Comments for "Curd Donuts-9"