Curd Donuts-8
by Editorial Staff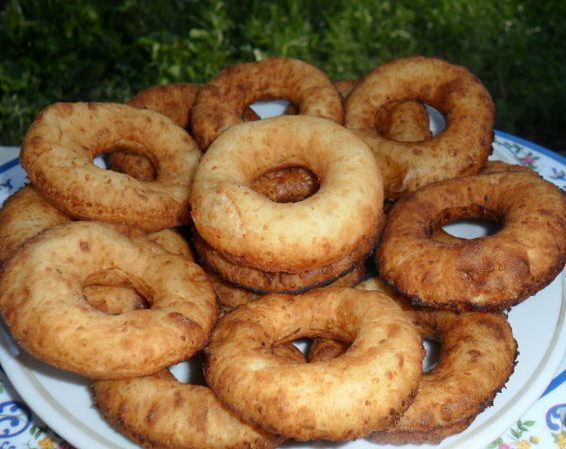 Light, airy and delicious curd donuts! Instantly disappear from the table!
Ingredients
Cottage cheese – 250 g
Flour – 300 g
Eggs – 2 pcs.
Sugar – 100 g
Soda – 1 teaspoon
Salt – 1 pinch
Directions
Beat eggs with a mixer, adding sugar. Add quick soda, salt, cottage cheese. Mix everything well. Add the sifted flour and mix again. The dough is thick and sticks a little to your hands.
Sprinkle flour on the table and hands, divide the dough into three parts and roll each part into a layer – not thin, 0.5-0.7 cm thick. It will take about half a glass of flour.
Cut out circles from the dough with a glass (I got 35 pieces), and cut out a smaller circle with a small lid in each circle.
Heat oil over medium heat. The temperature of the oil can be checked by tossing a small piece of dough – if bubbles appear around the dough, the oil is ready for frying.
Gently dip the bagels in hot oil (how many pieces – depending on the size of the saucepan or cauldron). The curd donuts increase in volume a little and are fried VERY quickly until golden brown.
Then fry the middle circles, which will turn into koloboks.
Put the finished donuts-donuts on a napkin so that the excess oil is absorbed. You can sprinkle the cottage cheese donuts with powdered sugar.
Also Like
Comments for "Curd Donuts-8"