Deep-Fried Pumpkin Donuts
by Editorial Staff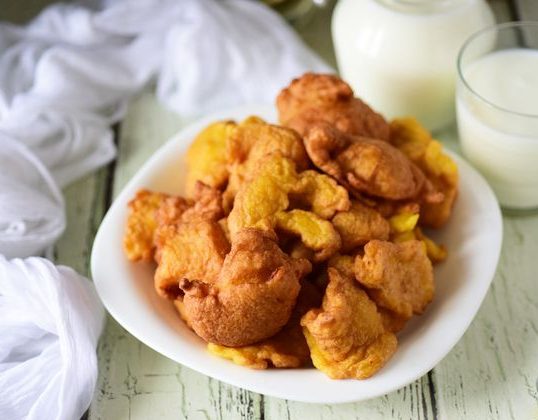 Golden donuts with a porous airy structure and a pronounced pumpkin flavor. Try these pumpkin donuts with a glass of milk – it's delicious!
Ingredients
Pumpkin – 700 g
Flour – 150-200 g
Eggs – 2 pcs.
Sugar – 4 tbsp
Vanilla sugar – 15 g
Baking powder – 1 teaspoon
Salt – a pinch
Vegetable oil – 600 ml
Directions
We prepare products. We turn on the oven, let it heat up to 200 degrees.
Peel the pumpkin. Cut the pumpkin pulp (500 g) into slices about 0.5 cm thick. Put the pumpkin slices in a baking dish.
Cover the tin tightly with foil and place in the oven for 30 minutes.
After a while, put the soft pieces of pumpkin in a bowl and interrupt with a submersible blender into a homogeneous puree. You can use a plug. Cool the pumpkin puree a little for 15-20 minutes.
Then we drive eggs into the pumpkin puree, add vanilla and regular sugar, and salt.
Mix with a mixer until smooth.
Sift flour with baking powder into the resulting mass.
We adjust the amount of flour so that the consistency of the dough is like that of low-fat sour cream – the dough should easily drain from the spoon.
In a saucepan, heat the oil over maximum heat. Then we turn down the heat to medium. Put the dough in the bubbling oil with a tablespoon. Since the dough is quite liquid, the shape of the donuts will be unpredictable. Fry the donuts, stirring constantly with a slotted spoon or spoon, until a noticeable golden hue appears.
Put the finished donuts on a plate with paper napkins to rid them of excess oil. The shape of all donuts is different, and the pumpkin is well felt in the taste.
On the inside, pumpkin donuts have a very porous and airy structure.
Bon Appetit!
Also Like
Comments for "Deep-Fried Pumpkin Donuts"