Coconut Sweets with Raisins
by Editorial Staff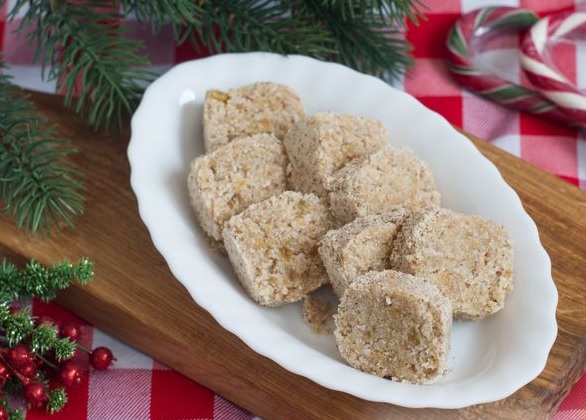 Coconut raisin candies are an unusual homemade sweet, a great alternative to store-bought candies. Delicious and natural delicacy!
Ingredients
Coconut flakes – 125 g
Raisins – 120 g
Honey – 1-3 tbsp
Ground cinnamon – 0.3 teaspoon
Raw almonds – 30 g
Directions
Prepare all the required ingredients before making your homemade candy.
It is advisable to take liquid honey.

Rinse the raisins and soak in boiling water for 10 minutes.
Grind the coconut flakes in a blender or coffee grinder so that you get almost coconut flour.
Grind the almonds into flour as well.
Place the raisins in a sieve and let the liquid drain. Then grind the raisins with a blender until smooth.
Add the raisins, ground cinnamon, and honey to the crushed coconut.
Stir everything until you get a homogeneous mass that holds its shape well. Depending on the dryness of the coconut, you will most likely need to add some more honey to keep the finished coconut from disintegrating.
Form a dense "sausage" about 3-4 cm in diameter and roll in ground almonds on all sides.
Place the sausage in the refrigerator for at least 1 hour.
Cut the "sausage" into portions. Coconut sweets with raisins are ready.
Bon Appetit!
Also Like
Comments for "Coconut Sweets with Raisins"