Cottage Cheese Casserole with Apple (in the Microwave)
by Editorial Staff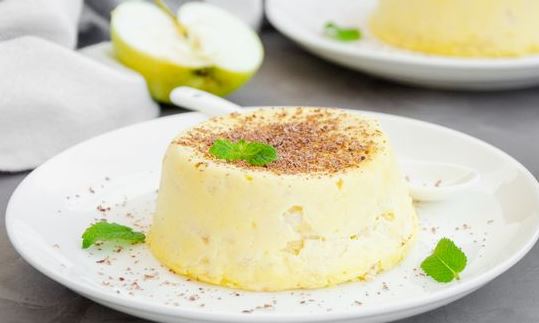 By combining just a few ingredients together and spending a minimum of time, you will get a delicious and healthy dessert – a cottage cheese casserole with an apple. Thanks to the speed of preparation, such a dessert from cottage cheese can be easily prepared for breakfast or afternoon tea!
Cook: 10 minutes
Servings: 2
Ingredients
Cottage cheese – 200 g
Apple – 1 pc. (80 g)
Egg (small size) – 1 pc.
Sugar – 1 teaspoon or to taste
Starch (if necessary) – 1 teaspoon
Butter – for lubricating molds
For the filling (optional):
Chocolate, berries, jam, honey – to taste
Directions
In a bowl, combine cottage cheese, egg, and sugar.

Blend the mixture with a hand blender until smooth and creamy. If your curd is soft enough, you can add 1 teaspoon of starch to keep the dessert better after baking.
Peel the apple and grate on a coarse grater. If the apple is too juicy, squeeze the pulp lightly. Add the apple pulp to the curd and stir.
Use ceramic or silicone molds for dessert. Ceramic molds can be brushed with a thin layer of butter to make the dessert easier to reach. Distribute the mass into the molds.
Cook the apple cottage cheese casserole in the microwave at 800 watts for 5-6 minutes. The cooking time depends on the size of your molds.

Allow the casserole to cool slightly in the mold, place on a plate, and serve.
The cottage cheese casserole with apple is ready. When serving, you can add grated chocolate, fresh berries, jam, or honey!
Bon Appetit!
Also Like
Comments for "Cottage Cheese Casserole with Apple (in the Microwave)"