Lavash Casserole with Pumpkin and Apple (in the Microwave)
by Editorial Staff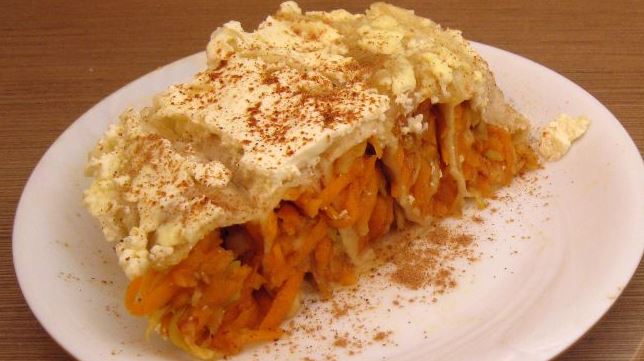 A simple pita casserole. Without any special undertakings, which does not prevent it from being tasty and aromatic.
Servings: 2
Ingredients
Lavash – 1 sheet (five pieces 20 by 15)
Pumpkin – 150 g
Apple – 150 g
Sugar – 2 tbsp
Cinnamon – 3 teaspoon
Sour cream – 80 g
Directions
Peel the pumpkin, wash and grate. Wash the apples, cut, remove the seeds and also grate. Mix apples with pumpkin. Add sugar and cinnamon.

Cut the lavash into rectangles of a suitable size (I have 15 by 20 cm).
Layout the filling (I laid it out along the short side) and wrap the rectangle in a tube. Put the prepared pita bread into the mold.

If the form is disposable, made of foil, it must be marked "can be used in the microwave"! Pour sour cream.
Cook the pita casserole in the microwave for 10 minutes at 600 watts. Then leave the baking dish in the microwave for another 10 minutes.
Sprinkle cinnamon on the casserole.
Bon Appetit!
Also Like
Comments for "Lavash Casserole with Pumpkin and Apple (in the Microwave)"