Potato and Zucchini Casserole (Microwave)
by Editorial Staff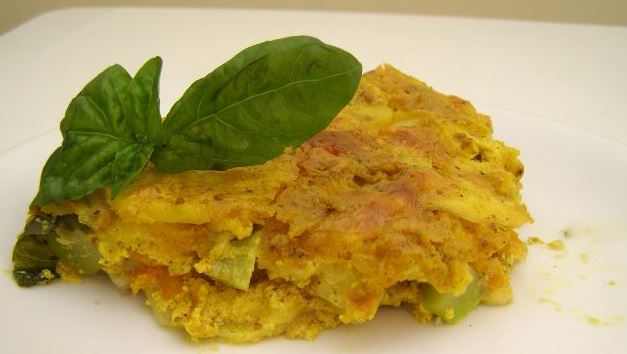 This sunny casserole can be very easy to cook in the microwave. But, of course, you can bake a casserole of potatoes and zucchini in the oven.
Servings: 3
Ingredients
Potatoes – 2-3 pcs. (250-300 g)
Zucchini – 0.5-1 pcs.
Carrots – 0.5 pcs.
Basil – 0.5 bunch
Rusks (with spices) – 40 g
Sour cream – 250 ml
Curry – 1-1.5 teaspoon
Salt – 0.5-1 teaspoon
Cheese – 100-150 g
Vegetable oil (for lubrication) – 1-2 tbsp
Directions
First, you need to prepare the fill. Mix sour cream, salt, curry powder. Grate cheese on a coarse grater. Add grated cheese to sour cream, mix thoroughly.
Peel the potatoes, wash and cut into thin slices (1-1.5 mm thick). Can be cut with a knife, or with a special grater.
Wash the zucchini. If the zucchini is not very young, peel it. Cut the zucchini into 1 cm cubes. Peel the carrots, wash and grate.
Wash and chop the basil leaves. Mix zucchini, carrots, basil, and half a pack of croutons (20 g) Mash the other half of croutons into crumbs.

Grease a microwave dish (glass, ceramic, plastic, or special foil) with oil and sprinkle with crushed breadcrumbs. For a given quantity of products, a form with a diameter of 20 cm is needed. Put half of the potatoes on the bottom.
Take a quarter of the sour cream cheese filling, grease the potatoes. Gently spread the vegetable mixture on top.
Put half of the original amount of pouring over the vegetables and spread over the vegetables. Place remaining potatoes.
Spread with the remaining fill. Put the vegetables in the microwave for 10 minutes at 600 power.
Then cook the potato and zucchini casserole for another 8 minutes at a power of 850. Leave the casserole in the microwave after turning off for 5-10 minutes. Can be covered with a lid.
The potato and zucchini casserole is ready.
Bon Appetit!
Also Like
Comments for "Potato and Zucchini Casserole (Microwave)"