Cottage cheese casserole with peaches, no flour (in the microwave)
by Editorial Staff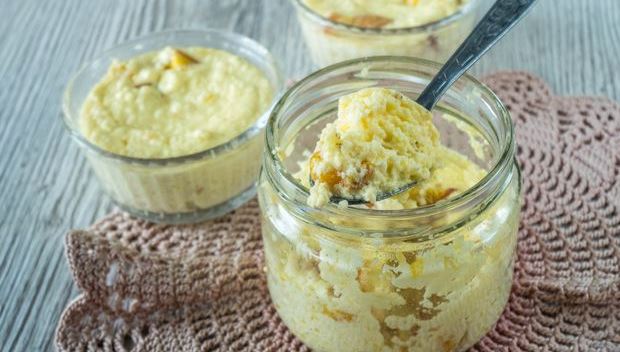 This airy cottage cheese casserole with slices of peaches and without a single gram of flour looks like the most delicate soufflé, and most importantly, it is cooked in the microwave for less than 10 minutes. Perfect breakfast in no time!
Ingredients
Cottage cheese – 350 g
Peaches – 2-3 pcs.
Egg (large) – 1 pc.
Sugar – 60 g
Butter – 40 g
Corn starch – 1 tbsp
Vanillin – on the tip of a knife (or vanilla sugar – 1 teaspoon)
Directions
Preparing the necessary ingredients for the peach curd casserole. The butter must be removed from the refrigerator beforehand to keep it soft. Instead of peaches, you can use other fruits or berries, raisins, or chocolate pieces.

Grind the butter with sugar and vanilla (instead of vanillin, you can add 1 teaspoon of vanilla sugar). Add the egg. Stir until smooth.
Add cottage cheese and mix well again. If the cottage cheese is dry, then you can rub it through a sieve so that there are no grains in the casserole.
Add cornstarch. Mix again. Cut the peaches into small cubes. Add to the curd mass and mix well again.
We fill the jars (or glass tins) with curd mass by about 2/3, since during cooking the casserole will increase in size. We bake in the microwave at 600 W for about 7-9 minutes (depending on the size of the molds).

Delicate and airy curd casserole with peaches is ready. Let it cool for a couple of minutes – and you can have breakfast.
Bon Appetit!
Also Like
Comments for "Cottage cheese casserole with peaches, no flour (in the microwave)"