Zucchini Casserole with Feta Cheese and Herbs
by Editorial Staff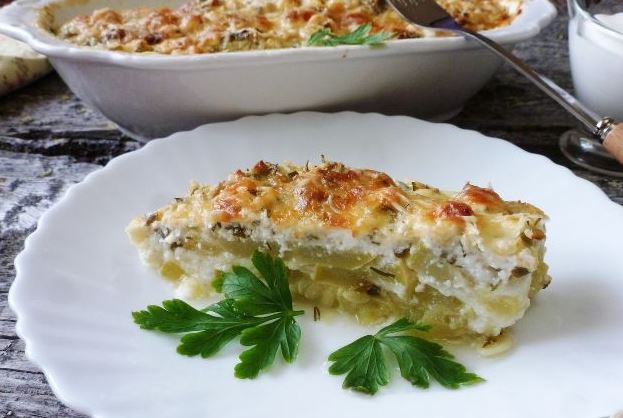 This casserole perfectly combines tender zucchini, which simply melts in your mouth, and salty feta cheese with aromatic herbs. Such zucchini casserole will appeal even to those who do not really like zucchini.
Cook: 40 minutes
Ingredients
Zucchini – 1 pc.
Flour – 1 tablespoon.
Chicken eggs – 1 pc.
Butter – 1 tablespoon.
Bryndza – 100 g
Hard cheese – 70 g
Milk – 0.5 cups
Parsley – 2 sprigs
Dill – 2 branches
Salt to taste
Ground black pepper – to taste
Vegetable oil (for lubricating the mold) – 1 teaspoon.
Directions
Wash the zucchini and cut into 0.5-1 cm thick slices. Boil them for 2-3 minutes. Then drain the water and leave to cool.

Now prepare the sauce for the casserole. Shake the egg and mix it with milk. Dissolve the butter in a frying pan, fry the flour in it. Mix the contents of the pan with the egg-milk mixture, mix well so that there are no lumps. Season with salt, pepper and remove from heat.
Grate hard cheese. Mash cheese with a fork and mix with chopped herbs.
Now we collect the casserole. Lightly grease the form with vegetable oil. Layout the zucchini mugs overlapping. Spread cheese with herbs on top. Drizzle with cooked sauce. Sprinkle with grated cheese.
Put the zucchini with cheese and herbs in the oven and bake for 20-25 minutes at 200 degrees.

When the cheese zucchini casserole has cooled slightly, cut into slices and serve.
Enjoy your meal!
Also Like
Comments for "Zucchini Casserole with Feta Cheese and Herbs"