Zucchini Casserole with Feta Cheese
by Editorial Staff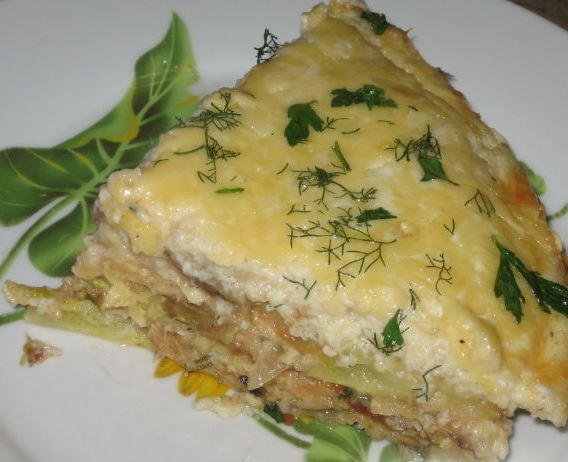 Delicious soft casserole of young zucchini with sheep's cheese and spicy cheese crust. You can make zucchini casserole with regular cheese.
Ingredients
Young zucchini – 1 kg
Brienza – 200g
Onion – 1 onion
Eggs – 3
Butter – 50g
Flour – 2 tbsp and flour for breading
Hard cheese – 3 tablespoon. tablespoons of grated cheese
Milk – 0.75 cups
Parsley greens – 2 tablespoon chopped spoons
Salt
Ground black pepper
Ground red pepper
Vegetable oil
Directions
Young zucchini with delicate skin can not be peeled, but only washed well. I cleaned mine, they had a very beaten skin.
We cut the zucchini into longitudinal slices, bread in flour, and fry in vegetable oil until light golden brown, until soft. Finished squash can be folded onto paper towels to remove excess fat.

Cut the onion into small cubes and fry in the remaining oil (with sprinkled flour) until soft. Mix with chopped feta cheese, two slightly beaten eggs, parsley, and red pepper. Put a layer of fried zucchini on the bottom of the refractory dish. Lubricate them with the prepared mass. Again a layer of zucchini and a mass. Zucchini should be on top.
Prepare a white sauce from 2 tablespoons of flour fried in butter. Add cold milk, salt, black pepper, and 1 lightly beaten egg, mix well so that there are no lumps. Pour the cooked zucchini with this sauce.
Sprinkle with grated cheese on top. We put in an oven preheated to 200 degrees for 20-25 minutes.
Sprinkle little greens on the finished zucchini casserole. The squash casserole is delicious hot and cold.

Ready-made zucchini casserole.
Enjoy your meal!
Also Like
Comments for "Zucchini Casserole with Feta Cheese"