Zucchini and Cottage Cheese Casserole
by Editorial Staff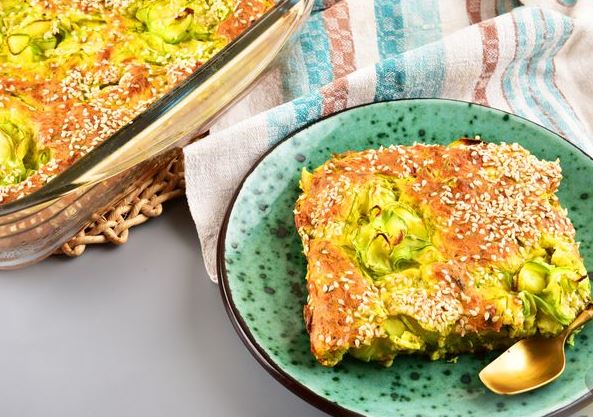 Zucchini and dough casserole based on cottage cheese, hard cheese, and sour cream. The dish turns out to be very tender, with a silky texture and a pleasant creamy taste.
Cook: 1 hour
Servings: 6
Ingredients
Zucchini – 600-650 g (3 pcs.)
Cottage cheese – 200 g
Hard cheese – 120 g
Flour – 100 g
Eggs (large) – 3 pcs.
Sour cream – 60 g
Vegetable oil – 25 g + for lubricating the mold
Fresh dill – 15 g
Garlic – 1 clove
Baking powder – 8 g
Salt – 1.5 teaspoon
Ground black pepper – to taste
Dried Italian herbs – 1 teaspoon
Ground turmeric – 0.5 teaspoon
White sesame seeds (seeds) – 1 teaspoon
Directions
Cut the zucchini around the edges. If the zucchini is young, do not peel the skin. On a special grater, rub the courgettes into thin circles.
Put the zucchini in a bowl, add 1 teaspoon of salt, mix and set aside to let the zucchini juice.

Combine eggs, cottage cheese, sour cream, and vegetable oil in a bowl.
Add turmeric, ground pepper, Italian herbs (or any other to taste), and 0.5 teaspoons of salt. Mix with a mixer.
Sift flour with baking powder to the mass. And mix again with a mixer. Turn on the oven to heat up to 190 degrees.
Grate the cheese on a fine grater and add to the dough. Finely chop the dill and place in a bowl. There is also garlic grated on a fine grater (passed through a press).
Squeeze the zucchini from excess liquid and add to a bowl. We will leave some zucchini (60-70 g) for decoration. Mix all the ingredients.
Grease a baking dish with vegetable oil and lay out the dough.
Decorate the top with zucchini flowers, collecting zucchini circles in small bunches and slightly dipping them into the dough.

Sprinkle with sesame seeds on top and put in an oven preheated to 190 degrees for 35 minutes. We check the readiness with a wooden skewer.
A casserole pie with zucchini and cottage cheese is ready.
Enjoy your meal!
Also Like
Comments for "Zucchini and Cottage Cheese Casserole"