Boiled Potatoes with Cottage Cheese, Herbs and Garlic
by Editorial Staff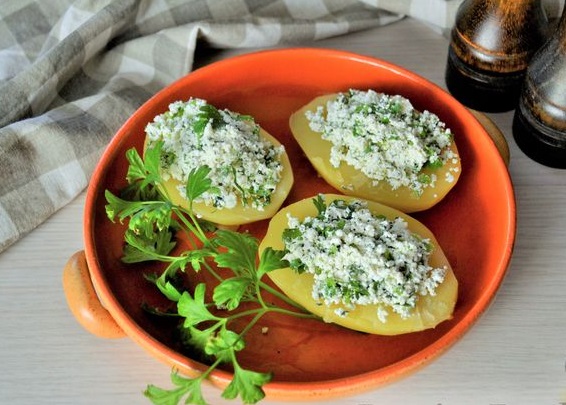 From boiled potatoes and cottage cheese with herbs and garlic, you can prepare a wonderful dish with a light spicy touch. The dish is prepared quickly and easily, but it turns out very tasty.
Ingredients
Potatoes (large) – 300 g (2 pcs.)
Cottage cheese 5% fat – 100 g
Butter – 20 g
Garlic – 1 clove
Fresh parsley – 10 g
Dill fresh or frozen – 10 g
Salt – 0.5 teaspoon
Ground black pepper – 3 pinches
Directions
Prepare the food you need. Wash and peel the potatoes. Remove the butter from the refrigerator to soften. Rinse and dry the greens, pour water over the potatoes, and cook. Cook the potatoes in salted water over moderate heat until tender (about 20-25 minutes).

Place the curd in a bowl. Add mild butter to the curd and crush the curd and butter.
Finely chop the parsley and dill (I use frozen dill), peel and press the garlic clove. Add herbs and garlic to the curd and butter in a bowl.
Season with salt and sprinkle with black pepper. Stir the curd mass.
When the potatoes are boiled, drain the water and place the potatoes on a plate.
Cut each potato in half lengthwise.
Place the curd mass on the potato halves. The butter in the curd mass will slowly melt on the hot potatoes.

Serve the curds and herbs immediately while the potatoes are hot. Such potatoes are perfect for meat and fish dishes. It can also be served as a separate dish.
Enjoy your meal!
Also Like
Comments for "Boiled Potatoes with Cottage Cheese, Herbs and Garlic"