Beetroot, Boiled Egg and Cottage Cheese Pate
by Editorial Staff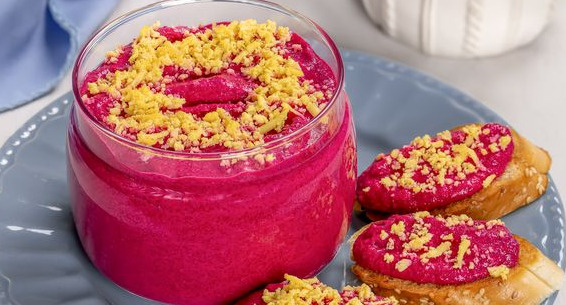 A versatile snack that can be served on slices of bread, used as a filling for tartlets, or simply as a sauce – a delicate pate made from baked beets, boiled eggs, and melted cheese. Only four ingredients and minimal preparation effort! The oven will take over the main work on baking beets, all that remains is to boil the eggs, chop and mix all the ingredients. Easy, colorful, tasty, and budget! Try it!
Ingredients
Directions
Prepare your ingredients. If desired, you can not bake the beets in the oven, but simply boil in salted water for about 40-60 minutes from the moment of boiling. However, baked beets are famous not only for their richer color, but also for their delicate taste, so if you can bake them, try it, it's worth it. To save time, you can bake or boil the beets in advance, for example, from evening to morning. It is better to place the processed cheese curds in the freezer for about 20-30 minutes in advance so that they slightly harden and it is easier to grate them. Turn on the oven to preheat to a temperature of 180-200 degrees.
Wash and dry the beets thoroughly without peeling them. Wrap each root vegetable in a piece of foil, place in an oven preheated to 180-200 degrees, and bake for 40-60 minutes, until soft. Chill the finished beets completely.
Place the eggs in a saucepan or saucepan, cover with water and add a pinch of salt to prevent the eggs from cracking during cooking. Set to maximum heat and bring to a boil. Then reduce heat to medium and cook eggs for about 8 minutes. Pour boiled eggs with cold water and leave to cool for about 5-10 minutes.
Peel the chilled baked beets, cut into small cubes, and place in the blender bowl.
Whisk on high speed for about 2-3 minutes, until smooth.

Grate the melted cheese on a fine grater. Peel the eggs, sort them into whites and yolks. Grate the yolks on a fine grater and set aside to decorate the pate.
Send the egg whites and cream cheese to the beetroot puree and beat on high speed for about 2-3 minutes, until smooth. If you have a small blender capacity, grind the ingredients in several steps and then stir or use a hand blender. If you do not plan to use egg yolks for decoration, chop them along with the rest of the pate.

Peel the garlic, pass through a press and send to the beetroot pate. Add salt and mix thoroughly.
Place the beetroot paste in an airtight container and refrigerate for about 20-30 minutes, so that it cools and infuses a little.
If you plan to use the pate for sandwiches, you can fry the slices of bread in a pan. I toast the bread over medium heat, lightly greasing the pan with vegetable oil, about 3-4 minutes on each side, until golden brown and a thin, slightly crispy crust.
Enjoy your meal!
Also Like
Comments for "Beetroot, Boiled Egg and Cottage Cheese Pate"