Beetroot Pate with Canned Beans
by Editorial Staff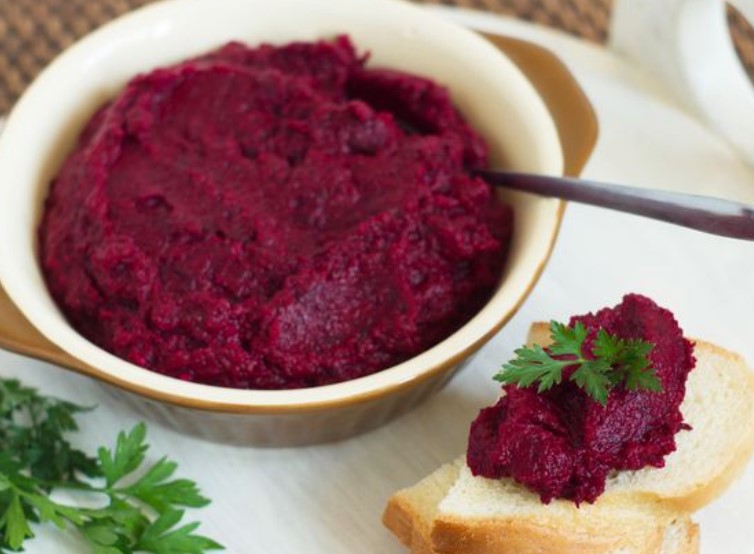 This unusual vegetable pate is made with baked beets, boiled red beans and a little fried onions! Plus an interesting dressing made from soy sauce, lemon juice and spices. The result is a bright and healthy dish with an interesting texture!
Cook: 13 hours 20 mins
Servings: 4
Ingredients
Beets – 350 g (2 pcs.)
Red beans (dry) – 90 g
Onions – 80 g (1 pc.)
Vegetable oil – 2 tbsp
For refueling:
Soy sauce – 2 tbsp
Lemon juice – 1 teaspoon
Ground black pepper – 1/4 teaspoon
Dried garlic – 1/4 teaspoon
Directions
Prepare foods from the list.

Soak the beans in clean water for 8-12 hours. Then rinse the beans, pour clean water in a saucepan, cover with a lid, put on fire and after boiling, cook over low heat for about 30-40 minutes, until fully cooked. The beans should be soft. Turn on the oven to heat up to 180-190 degrees.
Wash the beets, wrap each root vegetable in foil and place in the oven. Bake the beets until cooked through, about 1 hour. The smaller the beets, the less you need to bake them. Remove the cooked beets from the oven and cool.
Peel the onion and cut into small cubes. Heat vegetable oil in a skillet and add chopped onion. While stirring, fry over medium heat for 2-3 minutes, until the onion is translucent.
Peel the cooled beets and cut into small pieces. Place the beets in a blender bowl.
Drain the broth from the boiled beans. I got 240 grams of boiled beans.
Add the boiled beans and sautéed onions to the beetroot blender.

Combine soy sauce, lemon juice, dried garlic and black pepper in a bowl. Stir.
Add the prepared dressing to the rest of the ingredients in a blender bowl and now whisk everything together until smooth. Taste the dish. Soy sauce provides the necessary salinity, but you may want to tweak the flavor of the pate.
Beetroot pate with canned beans is ready! Serve the pate immediately after cooking.
Bon Appetit!
Also Like
Comments for "Beetroot Pate with Canned Beans"