Hot Beetroot with Beans
by Editorial Staff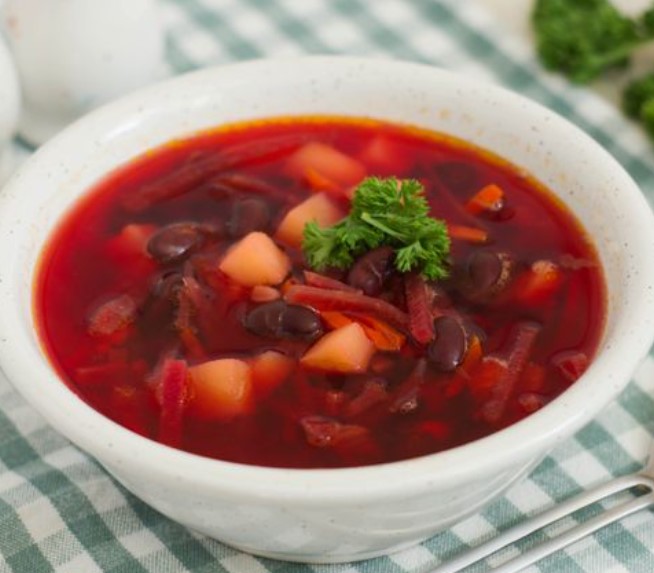 Hot beetroot, made with beans, is a great first course for a home-cooked meal: rich and filling! The beans give the beetroot additional nutritional value and density.
Cook: 8 hours 20 mins
Servings: 6
Ingredients
Beets – 450 g
Dry red beans – 90 g
Tomatoes – 2 pcs. (150 g)
Potatoes – 550 g
Onions – 130 g
Carrots – 60 g
Garlic – 1-2 cloves
Sugar – 1 teaspoon
Vinegar 9% – 1 tbsp
Vegetable oil – 1-2 tbsp
Salt – 1 teaspoon
Ground black pepper – on the tip of a knife
Fresh parsley (for serving, optional) – to taste
Water – 1.7-2 l
Directions
Prepare foods from the list.

Rinse the beans and cover with clean water. Leave the beans for 6-8 hours.
Then rinse the beans, place in a saucepan and cover with clean water. Cover and bring to aboil. Remove the resulting foam and cook the beans over low heat for about 30-35 minutes, until completely softened.
Peel the beets and cut into thin strips.
Place the beets in a saucepan or saucepan and add 500 ml of water. Cover, bring to a boil, add sugar and vinegar. Boil the beets over low heat for about 30-40 minutes, until soft.
Peel and cut the onions into small cubes. Make cruciform cuts on the tomatoes. Pour boiling water over the tomatoes for 30-45 seconds and then discard in a colander. Pour ice water over the tomatoes and peel them off. Cut the peeled tomato pulp into medium pieces.
Heat vegetable oil in a skillet and add chopped onion. While stirring, fry it for 2-3 minutes, until translucent.
Then add the chopped tomato pulp.

Pour water into a saucepan and bring to a boil. While the water is boiling, peel the potatoes and cut into small cubes.
Put the chopped potatoes in boiling water and after boiling again, remove the foam, cover the pan with a lid and cook over low heat for 4-5 minutes.
Peel the carrots and cut into thin strips.
Add the chopped carrots to the pot with the potatoes and cook for another 10-15 minutes.
Add the onion and tomato stir-fry to the saucepan.
Drain the cooked beets from the cooked beets and place them in a common pot. Add boiled beans, add salt and black pepper. Stir and bring to a boil. Peel the garlic, chop finely and add to the saucepan. Stir and remove from heat.

Beetroot with beans is ready! You can serve it immediately after cooking or let it brew for 30-40 minutes.
Enjoy your meal!
Also Like
Comments for "Hot Beetroot with Beans"