Beetroot Hot
by Editorial Staff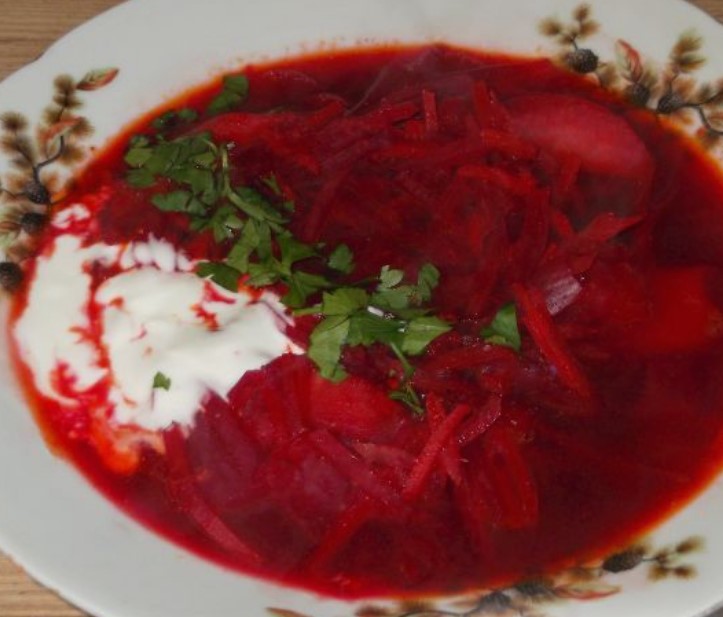 Hot beetroot is a healthy, tasty and aromatic first course.
Cook 30 mins
Servings 6
Ingredients
Beets – 250-350 g (2 pcs.)
Carrots – 150-200 g (1-2 pcs.)
Potatoes – 200 g (2 pcs.)
Tomatoes – 400 g (4-5 pcs.)
Onions – 70-90 g (1 pc.)
Salt 1.5 teaspoon
Sour cream – 100-200 g
Greens – 0.5 bunch
Citric acid (optional) – a pinch
Sugar (optional) – 0.25 teaspoon
Directions
Prepare food for cooking hot beetroot.
Peel carrots, wash, chop finely.
Peel, wash, cut the beets into strips.
Peel the onion, wash, chop finely.
Peel potatoes, wash, cut into slices.
Boil water (1-1.5 l)
Put 1 carrot, onion, potato in boiling water.
Add one and a half beets, cut into strips. Cover with a lid and simmer.

Melt the butter in a frying pan.
The remaining 0.5 beets, put carrots in melted butter, stir. Saute in butter, stirring occasionally. You need to fry the roots over medium heat for 5-7 minutes.
Scald the tomatoes with boiling water, remove the skin.
Finely chop the tomatoes.
Add the tomatoes to the roots, mix, simmer for another 5-7 minutes (the tomatoes should be completely softened).
Pour into a saucepan with boiling vegetables.
Season to taste with salt. Cover, cook for another 5 minutes. Then turn off the beetroot. You can adjust the taste by adding sugar and citric acid to the beetroot. The hot beetroot is ready.

When serving hot beetroot, season with herbs and sour cream.
Bon appetit!
Also Like
Comments for "Beetroot Hot"