Cold Beetroot with Beans and Cucumber
by Editorial Staff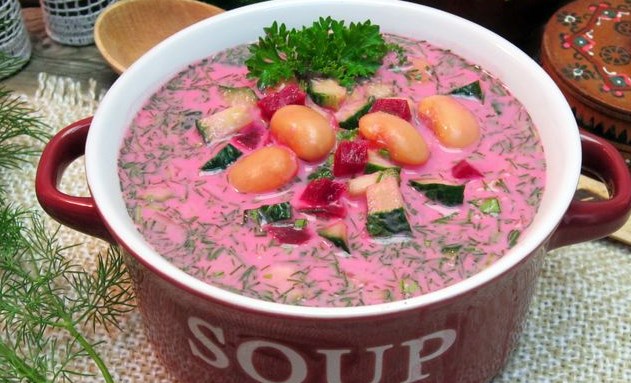 Cold beetroot according to this recipe is prepared without adding meat products, but canned beans give it satiety and interesting taste. Such a cooler is a great option for hot weather.
Servings: 6
Ingredients
Beets – 380 g
Fresh cucumbers – 250 g
Canned beans – 1 can (460 g)
Eggs – 4 pieces
Fresh dill – 30 g
Fresh parsley – 30 g
Salt to taste
Ground black pepper – to taste
Lemon (juice) – 0.5-2 tbsp
Kefir – 800 ml
Boiled cold water – 200 ml
Directions
We prepare the necessary products.

The beets can be boiled, but the flavor will be richer if the beets are baked in the oven. We bake the beets at 200 degrees from 45 minutes to 1.5 hours (depending on the size). Check the readiness of the beets with a fork or a toothpick. Let the beets cool.

Boil the eggs hard-boiled for 8-10 minutes, then cool in cold water. Peel and dice the cooled eggs.
Peel and dice the cooled beets. Cut the cucumbers into cubes.
Finely chop the dill and parsley. You can leave a few parsley leaves for serving.
We send beets, eggs, herbs, cucumbers, and canned beans (without liquid) to the saucepan.

Mix kefir with cold water and pour the chopped food into a saucepan. Salt and pepper to taste. We mix.
Squeeze the juice out of the lemon. The amount of lemon juice required depends on how sour kefir is – from 0.5 to 2 tbsp. If the kefir is too sour, you don't need to add lemon juice at all. Add lemon juice to a saucepan with beetroot, stir.

Beetroot with beans and cucumber is ready. It is advisable to chill the dish in the refrigerator before serving. Garnish with parsley leaves if you wish.
Enjoy your meal!
Also Like
Comments for "Cold Beetroot with Beans and Cucumber"