Cold Summer Beetroot
by Editorial Staff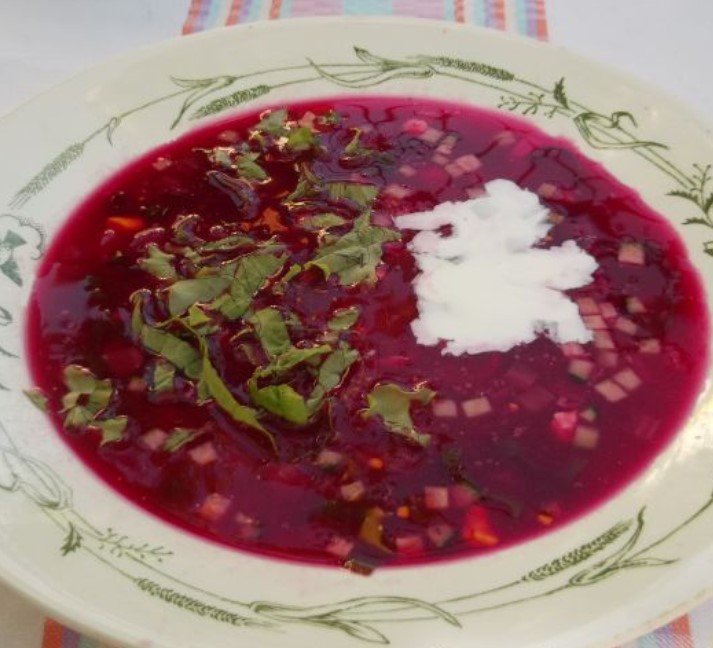 In summer, a good beetroot is the perfect choice for a first course for lunch. Hot soups are not too hungry on a hot day, and cool light soup not only satisfies hunger, but also perfectly refreshes. Here's a simple recipe for how to cook cold beetroot (summer).
Cook: 3 hour
Servings: 6
Ingredients
Young beets (with tops), medium-sized – 3 pcs.
Potatoes – 2-3 pcs.
Fresh cucumbers – 2 pcs.
Eggs – 2 pcs.
Green onions – 0.5 bunch
Green leaf lettuce – 2-3 leaves
Parsley – 2-3 sprigs
Dill greens – 2-3 branches
Garlic – 3 cloves
Vinegar (preferably fruit) – 2 tbsp
Horseradish (ready-made sauce or grated horseradish) – 1 teaspoon (to taste)
Mustard (prepared sauce) – 0.5 teaspoon (to taste)
Sugar – 1 tbsp (to taste)
Salt – 1 teaspoon (to taste)
Ground black pepper – 1 pinch
Sour cream (for serving) – 150 g
Directions
Prepare food.
Peel the beets, cut into cubes.

Cut the tops (if any) into strips, set aside.
Pour water over the beets (about 1-1.5 l), adding 1 tablespoon. a spoonful of vinegar (this will keep the bright red color of the beets) and cook.
When the beets are soft (about 30 minutes), add the chopped beet tops (if used) and simmer for a couple of minutes. Cool down.
Boil the potatoes in their skins (25-30 minutes). Peel and chop the boiled potatoes.
Cut the cucumbers into cubes.
Chop a few green onions.
Chop the parsley and dill.
Chop green lettuce leaves.
Boil eggs hard-boiled: pour cold water, bring to a boil, cook for 7-8 minutes, cool under cold water. Slice the boiled eggs.
Add all the chopped foods to the beetroot broth. If it comes out too thick, you can add some cold boiled water. But a good beetroot shouldn't be too runny. You can let the beetroot brew for a couple of hours.

Peel and distribute the garlic.
Mix horseradish and mustard with garlic, sugar and, if desired, with vinegar (1 tablespoon).
Season the beetroot with cooked garlic dressing. Season with salt and pepper.
Serve the beetroot with sour cream, well chilled (to speed up the cooling process, you can add ice cubes to the beetroot). Enjoy your meal!
Also Like
Comments for "Cold Summer Beetroot"