Cold Beetroot on Kefir
by Editorial Staff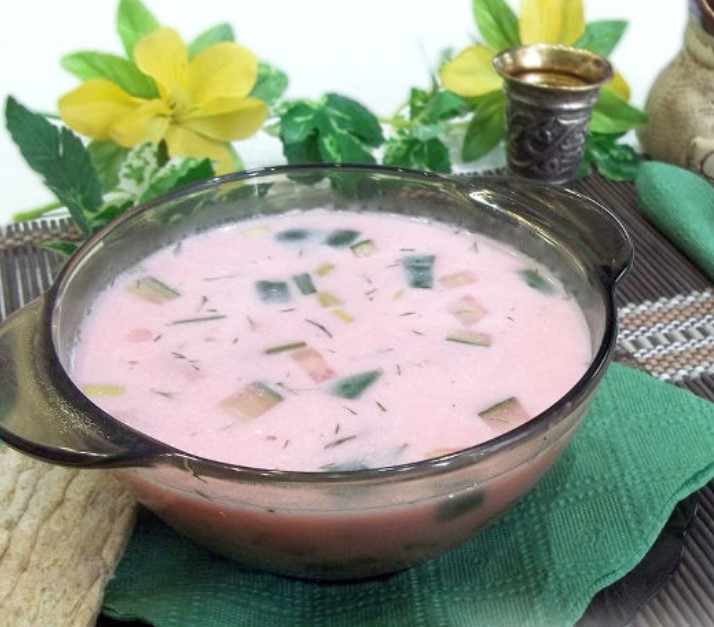 In the classic beetroot recipe, the dish is dressed with beet broth with the addition of kvass, kefir or sour cream. Today I am sharing with you a recipe for cold beetroot, which I cooked not only with beet broth, but also with meat broth, and filled with kefir.
Ingredients
Meat (any) – 500 grams
Beets – 2-3 pcs.
Potatoes – 6 pcs.
Kefir – 500 ml
Eggs – 6 pcs.
Cucumbers – 5 pcs.
Green onions – 1 bunch
Dill – 1 bunch
Salt to taste
Vinegar – 1 teaspoon
Citric acid – to taste
Directions
Required ingredients for cold beetroot on kefir: beets, any meat, potatoes, kefir, eggs, cucumbers, green onions, dill, salt, vinegar, citric acid.
First of all, boil the necessary products. So, wash the meat, fill it with water, salt, put it on the stove and cook the meat broth.

Peel the beets, cut into cubes about 8-10 mm in size, put in a saucepan, pour water, salt, add vinegar and boil the beet broth. Vinegar is essential for keeping beets in their bright, intense color. You can replace vinegar with lemon juice.
Wash the potatoes and boil them in their skins.
Boil eggs hard-boiled.
After all foods are prepared, they should be completely cooled. Therefore, I recommend doing the cooking processes described above in advance, for example, in the evening. So, peel and cut the cooled eggs
Peel the potatoes and cut them as well.
Remove the meat from the broth and cut it like the previous products.
Wash cucumbers, green onions and dill under running water, then chop them. Cucumbers – cubed.
Chop green onions.
Dill – chop.
Put all the prepared foods in a saucepan of suitable size (approximately 5.5 liters), and add the boiled beets along with the beet broth.

Pour everything over with broth. It is advisable to do this through filtration so that the fat that collects on the surface of the broth does not get into the beetroot.
And fill all the products with kefir.
Adjust the taste of the beetroot with salt and add citric acid. Leave the dish to steep and cool in the refrigerator for about 30 minutes. After that, the cold beetroot can be served on kefir. Bon appetit!
Also Like
Comments for "Cold Beetroot on Kefir"