Cold Soup with Beets, Kefir
by Editorial Staff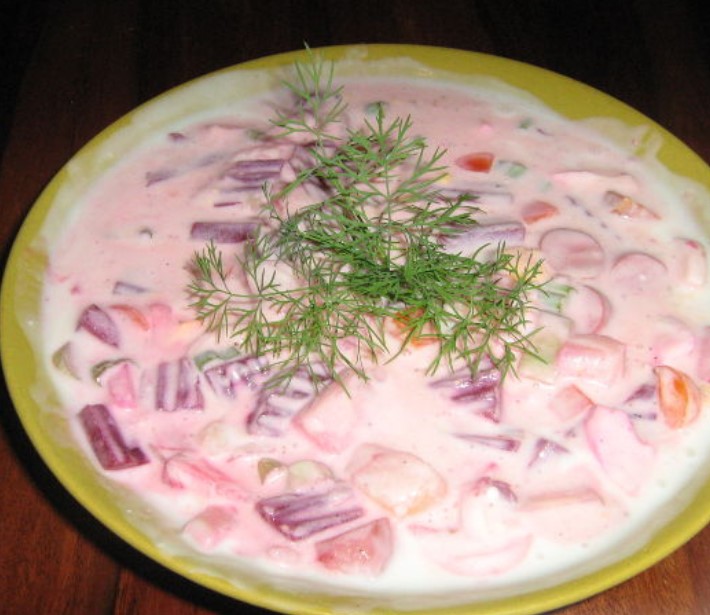 On hot summer days, cold kefir soup is just what you need!
Ingredients
Kefir – 400-500 ml
Boiled beets – 1 pc. (200 g)
Boiled potatoes – 1 pc.
Boiled carrots – 1 pc.
Sausages – 100 g
Boiled eggs – 2 pcs.
Cheese – 100 g
Fresh cucumber – 1 pc.
Radish – 7 pcs.
Green onion
Fresh dill
Salt
Ground black pepper
Wine or apple cider vinegar – 25 ml
Directions
Cut the boiled beets and fresh cucumber into small cubes. Drizzle lightly with vinegar and let stand while chopping the rest of the food.

Peel and dice the potatoes and carrots cooked in their skins.
Hard-boiled eggs, peel and chop.
Chop the radish.
Chop the onion.
Cheese (preferably soft, can be processed) cut into cubes.
Sausages (you can boil and cool in advance) cut.
Combine everything in a plate, salt, pepper and mix.

Pour cold kefir over. If the kefir is too thick, dilute it with cold water. Decorate the cold soup with fresh dill. Enjoy your meal!
Also Like
Comments for "Cold Soup with Beets, Kefir"