Cold Soup with Kefir
by Editorial Staff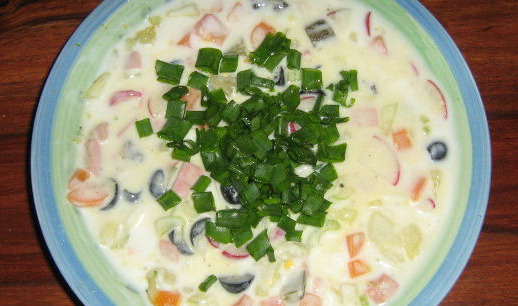 We already had several warm days, and so wanted to have a cold soup with kefir for lunch. And fresh, and appetizing, and tasty !!!
Cook: 30 minutes
Servings: 3
Ingredients
Radish – 7 pcs.
Fresh cucumber – 1 pc.
Pickled cucumber – 1 pc.
Olives – 10-15 pcs.
Green onions – 1 bunch
Bulb onions – 1/2 pc.
Boiled eggs – 2 pcs.
Potatoes – 2 pcs.
Carrots – 2 pcs.
Celery – 1 petiole
Sausage or boiled meat – 100 g
Salt
Ground black pepper
Kefir – 500 ml
Cucumber pickle – 50 ml
Water – 50 ml
Cooking cold soup with kefir.
Directions
My radishes, cut off the butts and cut into thin slices.
Peel the fresh cucumber, since I have it in a greenhouse, the skin is tough. Cut into small cubes.
Cut a dozen olives into rings.
Chop green onions.
Cut the onions into small cubes too.
Wash the celery stalk and cut it into thin slices.
We clean and cut the boiled eggs.
I had boiled chicken sausage, but you can use both sausages and boiled meat. Cut into cubes.
Boil the potatoes and carrots in their uniform. Peel and cut into cubes.
Cut the pickled cucumber into cubes.
We combine all the components, salt, and pepper a little.

We mix kefir with cold water and cold cucumber pickle. If your kefir is too thick, you can increase the amount of water. We check for salt.
Enjoy your meal!
Also Like
Comments for "Cold Soup with Kefir"