Cold Soup with Zucchini, Scrambled Eggs and Kefir
by Editorial Staff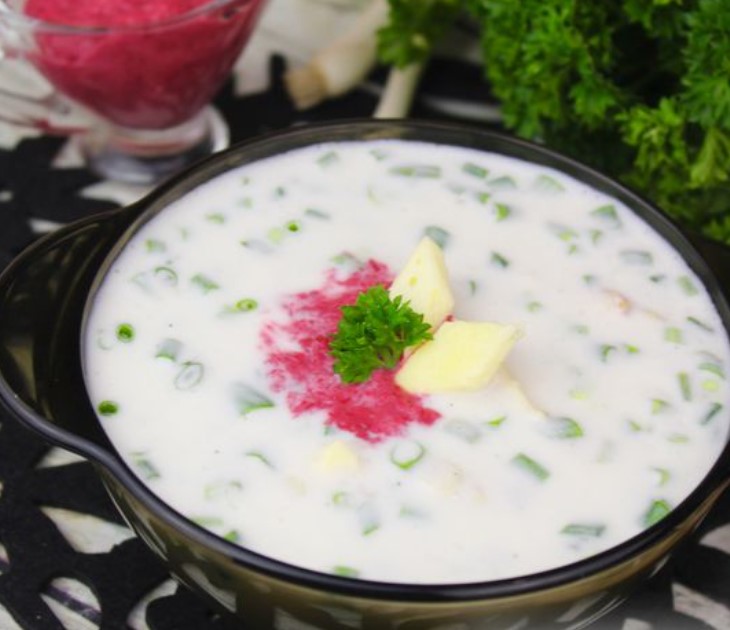 Soup that you don't need to cook – isn't it a dream on a hot summer day, when you don't want to spend a lot of time at the stove? Soup according to this recipe is quite simple to prepare – fry an omelet with zucchini, cut into pieces and fill with a mixture of kefir, garlic and green onions. Nutritious and delicious!
Ingredients
Zucchini (or regular zucchini) – 300 g
Eggs – 4 pcs.
Kefir 1% – 1 l
Green onions – 8-10 pcs.
Garlic – 1-2 cloves
Horseradish table – 1-2 teaspoon
Flour – 2 tbsp
Sunflower oil – 2 tbsp (30 g)
Salt – 1 teaspoon
Ground black pepper – to taste
Directions
Prepare food. You can take both zucchini and regular zucchini.

Beat eggs with half a teaspoon of salt.
Wash the zucchini, dry it, cut off the edges. If the zucchini is not young, cut the skin and remove the seeds. Cut the zucchini into small cubes.
Pour flour into a plastic bag, add 0.25 teaspoons of salt. Send zucchini there. Shake the bag several times so that all the courgettes are covered in flour.
Heat vegetable oil in a frying pan and fry the zucchini over high heat, stirring occasionally, for a couple of minutes.
Pour the zucchini with the egg mixture, reduce heat to low and cook for 5-7 minutes under the lid. Remove from heat and let the zucchini omelet cool.
Meanwhile, prepare the kefir mixture for pouring. Rinse green onions, dry and chop finely (if desired, together with the white part).
Combine kefir with green onions, add 0.25 teaspoons of salt and black pepper to taste. Peel the garlic and squeeze through a press into a bowl of kefir.
Mix. Add lemon juice if desired, but kefir acid is usually sufficient. If the mixture seems thick to you, dilute with mineral sparkling water. (You can also add horseradish directly to the fill if all family members favor it.)
Turn the zucchini omelet onto a cutting board and cut into small pieces – squares, triangles, rhombuses, etc.
Distribute the zucchini omelette among portioned plates (I have three 350 ml bouillon bowls).

Pour the omelette with kefir mixture.
Add 0.5-1 teaspoon of horseradish to each serving, decorate at your discretion and serve.
Enjoy your meal!
Also Like
Comments for "Cold Soup with Zucchini, Scrambled Eggs and Kefir"