Cold Cucumber Soup with Yogurt and Kefir
by Editorial Staff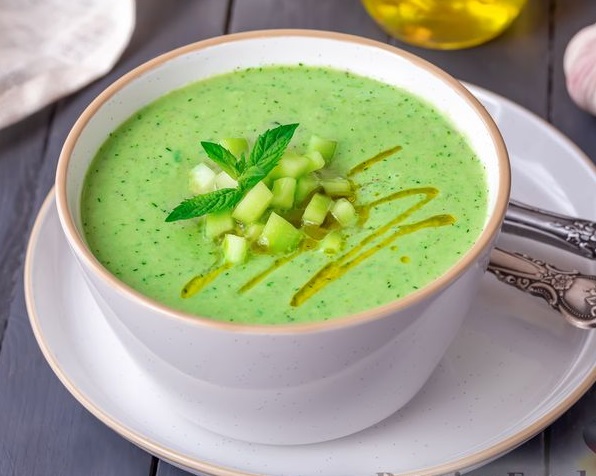 Thick cold soup made from cucumbers, yogurt, kefir, and herbs is a godsend for hot summer days! The soup is excellently refreshing, has a mouth-watering spicy flavor, and is prepared in minutes by simply mixing the ingredients in a blender. Simple, easy, and delicious. Try it!
Ingredients
Cucumbers – 1 kg
Thick natural yogurt – 300 g
Kefir 2.5% – 200 ml
Green onions – 30 g
Fresh dill – 30 g
Fresh mint – 2 sprigs (optional)
Fresh basil – 2 sprigs
Lemon (juice) – 1-3 teaspoon (to taste)
Salt to taste
Ground black pepper – to taste
Garlic – 2 cloves
Vegetable oil – 1-2 tbsp
Directions
Prepare foods on the list. Wash and dry vegetables and herbs.

Peel the cucumbers cut them in half and remove the seeds with a teaspoon. Set aside 2-3 small cucumbers for serving, chop the rest into medium pieces. Peel the garlic.
Place the sliced ​​cucumbers in a blender bowl. Add dill, basil leaves, green onions, and, if desired, mint leaves. Save a few top mint or basil leaves for garnish.
Add the garlic cloves and squeeze out 1-2 teaspoons of lemon juice.
Pour in kefir and yogurt.
Whisk all a few minutes until smooth.
Pour the mixture into an airtight container. Season to taste with salt, ground black pepper, and, if necessary, a little more lemon juice to taste. Place the lid on the container and place it in the refrigerator for at least 60 minutes to cool.
To serve, cut the remaining cucumbers into small cubes. Pour chilled cucumber soup into bowls, add some chopped cucumbers to each bowl, drizzle with vegetable oil, and garnish with mint or basil leaves if desired.

Cold cucumber soup with yogurt and kefir is ready. Bon Appetit!
Also Like
Comments for "Cold Cucumber Soup with Yogurt and Kefir"