Cold Soup "Kuroshka"
by Editorial Staff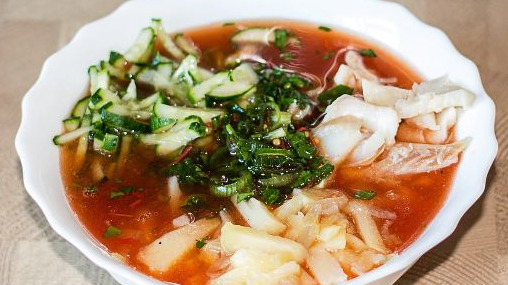 In this recipe for a cold soup, I have combined two popular Korean and Russian dishes – Kuksi and Okroshka. Cold soup with smoked fish and vegetables turns out to be unusual, interesting, and tasty. Worth a try!
Ingredients
Hot smoked fish (sea bass, cod, etc.) – 500 g
Boiled potatoes – 800 g
Tomatoes – 500 g
Cucumbers – 500 g
Bulb onions – 2 pcs.
Green onions – to taste
Fresh parsley – to taste
Soy sauce – 100-150 ml
Sugar – 1 tbsp
Apple cider vinegar (or lemon juice) – 3 tbsp
Ground sweet paprika (or another seasoning) – 1 teaspoon.
Ground black pepper (optional) – to taste
Salt to taste
Vegetable oil – 2 tbsp
Boiled cold water – 2 l
Directions
Prepare food. Boil potatoes in advance, cool. Smoked fish must be peeled from skin and bones, cut into cubes. If suddenly someone has difficulties or problems with fish, you can replace it with chicken – also an option.
Grind the tomatoes into a smooth puree with a blender. (You can mince or peel tomatoes and chop them.)
Chop parsley and green onions finely.
Salt little green onions and mash with mashed potatoes.
Add chopped tomatoes, soy sauce, vinegar or lemon juice, sugar, sweet paprika, parsley, and green onions to two liters of cold boiled water. (If you don't want to use soy sauce, replace it with salt.)
Stir everything until the sugar dissolves. Put in the refrigerator for two hours.

By the time the cold tomato soup is infused, cut the boiled potatoes and cucumbers into strips.
Salt and mix cucumbers. Then drain off the excess juice.
Cut the onion into quarters.
Heat vegetable oil in a frying pan. Put the onion in the pan and fry over high heat. Then reduce the heat, bring the onion to full readiness, and turn off the heat.
Add the fried onions to the potatoes and stir. If necessary – add salt, if desired, you can add black ground pepper.
Put cucumbers and potatoes with onions in the refrigerator.
When the liquid component is infused and everything has cooled enough, you can serve the soup.

Put potatoes with onions, fish, cucumbers on a plate and pour the "broth" with tomatoes and herbs.
Enjoy your meal!
Also Like
Comments for "Cold Soup "Kuroshka""