Beetroot, Bean and Apple Salad
by Editorial Staff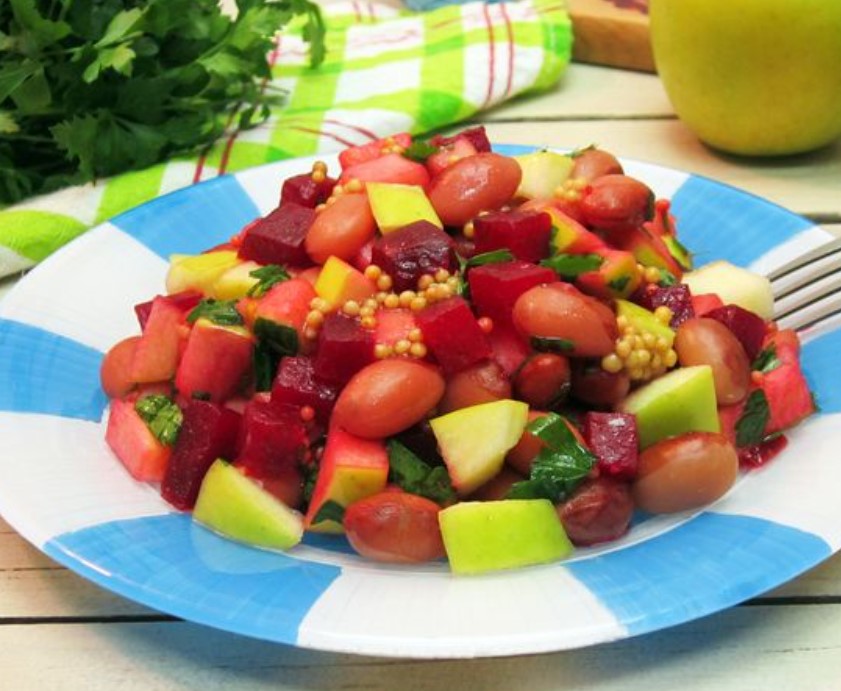 Beetroot, bean and apple salad can be prepared at any time of the year. The products in the salad are the simplest and the taste is very interesting. Apples go well with sweetish beets, beans add satiety to the salad, and a dressing of mustard, oil and apple cider vinegar makes the salad spicy. This salad is perfect for vegetarian meals.
Servings: 3
Ingredients
Beets – 200 g
Apples – 200 g
Dry beans – 90 g
or canned beans – 200 g (weight without liquid)
Sunflower oil – 2 tbsp (30 ml)
Apple cider vinegar – 1 tbsp (15 ml)
Granular mustard – 2-3 teaspoon
Parsley greens – 1 small bunch
Sugar – 0.5 teaspoon
Salt – 1/3 teaspoon (to taste)
Directions
We prepare the products that will be needed for making salad from beets, beans and apples.

Pour the beans into 0.5 liters of water and boil for about 2 hours, until tender. Let the beans cool completely. (To cut the boil time in half, you can soak the beans in cold water overnight.)
Boil the beets for about an hour, until tender.
For dressing, combine vegetable oil with apple cider vinegar, sugar and salt.
Add mustard to the dressing. We mix.
Peel the cooled beets and cut into cubes. Add the dressing to the beets.
Stir the beets with the dressing and leave for 10 minutes. This is necessary so that the beets "paint" the rest of the components less.
During this time, finely chop the parsley.
Cut the apples into cubes.
Combine cooled beans, apples, beets with dressing and parsley.

Mix everything and, if necessary, add salt to the salad to taste.
Salad of beets, beans and apples is ready.
Bon Appetit!
Also Like
Comments for "Beetroot, Bean and Apple Salad"