Hot Salad with Fish and Bean Sprouts
by Editorial Staff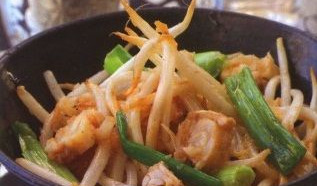 This hot salad is made with salted red fish, bean sprouts, and green onions. Garlic and soy sauce complements this salad perfectly.
Servings: 4
Ingredients
Red fish, salted (fillet) – 100 g
Bean sprouts – 600 g
Green onions – 2 pcs.
Garlic (passed through a press) – 2 tbsp
Light soy sauce – 1 tbsp
Vegetable oil – 60 g
How to make a hot salad with fish and bean sprouts:
Directions
Soak the fillets in cold water for 48 hours and then dry on a paper towel. Cut the fillet into slices.
Heat vegetable oil in a wok or other large skillet, add fish pieces, fry until golden brown. Transfer the fish to a paper towel, let it cool slightly, then break it into pieces.
Rinse bean sprouts well and sort, remove spoiled ones. Cut the green onions into 5 cm pieces.
Drain the oil from the pan, leaving only 2 tablespoons. Warm-up again. Put garlic in a frying pan, fry until slightly golden brown. Add bean sprouts and fish, cook for a couple of minutes.
Put the green onions in the pan, cook the hot fish salad for about 1 minute, pour over the soy sauce, cook the hot fish salad for about 1 minute more.
Enjoy your meal!
Also Like
Comments for "Hot Salad with Fish and Bean Sprouts"