Crispy Pita Bread with Vegetable Filling
by Editorial Staff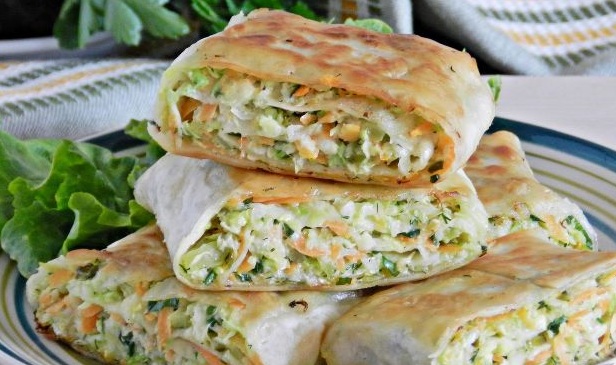 Crispy pita bread fried in a pan with a juicy filling of cabbage, carrots, and pickled cucumbers.
Servings: 8
Ingredients
Thin lavash – 1 pc.
The fresh cabbage (preferably young) – 350 g
Carrots – 1 pc.
Pickled cucumbers – 100 g
Green onions – to taste
Fresh dill – to taste
Mayonnaise – 2-3 tbsp
Salt to taste
Ground black pepper – to taste
Vegetable oil – for frying
Directions
Grate cabbage in a large bowl.
Grate the carrots.
Grate pickled cucumbers.
Wash the onion and dill, dry, chop finely.
Mix all vegetables and herbs, season with mayonnaise. Add salt and pepper to taste.
Spread the lavash on the table and distribute the vegetable filling evenly over the entire surface.
Roll the stuffed pita bread into a roll.

Cut the lavash roll in portions into pieces about 3 cm wide.
Heat vegetable oil in a frying pan. Put pieces of pita bread roll into the pan.
Fry pita bread with filling until golden brown on both sides.

Lavash, when fried, becomes crispy, with an appetizing golden-brown crust, and the filling inside remains juicy. A slice of crispy pita bread with vegetable filling is ready. Bon Appetit!
Also Like
Comments for "Crispy Pita Bread with Vegetable Filling"