Fish in Pita Bread, in the Oven
by Editorial Staff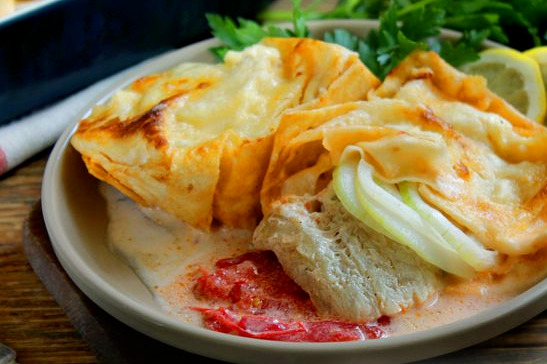 Fillet of sea fish with vegetables in lavash is a very original dish. It resembles fish lasagne, but it is much easier to prepare.
Cook: 1 hour
Servings: 6
Ingredients
Hake or pollock (fillet) – 700 g
Thin lavash – 3 pcs.
Tomatoes – 1-2 pcs.
Large onions – 1 pc.
Sour cream – 150 g
Mayonnaise – 100 g
Vegetable oil – 3-4 tbsp
Salt to taste
Ground black pepper – to taste
Directions
We take products from the list.

Chop the onion into rings.
Cut the tomatoes into circles.
Mix mayonnaise with sour cream (you can add spices if you wish).
Cut sheets of thin pita bread in half.
Divide the fish fillet into portions, salt, and pepper to taste.
Put onion rings on pita bread.
Then the fish.
Cover with sour cream and mayonnaise sauce.
We put the tomatoes.
We fold envelopes from lavash with fish and vegetables.
We put the blanks in an oiled form in one layer. On top of the pita bread, grease a little with vegetable oil.
Then we apply sour cream and mayonnaise sauce. We bake fish in pita bread in a preheated oven for about 45 minutes at a temperature of 180-200 degrees. I recommend covering the dish with foil for the first 15-20 minutes, otherwise, the fish may not bake.
Cool slightly.

Serve baked fish in pita bread with onions and tomatoes with fresh herbs and lemon.
Enjoy your meal!
Also Like
Comments for "Fish in Pita Bread, in the Oven"