Fish Baked in Pita Bread with Tomatoes
by Editorial Staff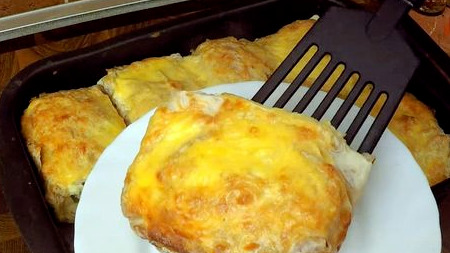 I offer a recipe for fish cooked in the oven in pita bread with tomatoes. The fish is marinated first in a vitamin sauce with onions and parsley, after which the fish and tomatoes are wrapped in pita bread and sent to the oven. The dish is served both on a festive table cold and as an everyday hot full meal.
Cook: 1 hour 20 minutes
Servings: 8
Ingredients
Fish fillet (I have Dori) – 600-700 g
Armenian lavash (thin) – 2 large sheets
Tomatoes – 2 pcs.
Bulb onions – 1 pc.
Fresh parsley – 3 sprigs
Hard or semi-hard cheese – 50-60 g
Sour cream (10%) – 3 tbsp
Eggs – 2 pcs.
Olive or other vegetable oil – 3 tbsp
Grape vinegar – 2 tbsp
Mustard (granular) – 0.5 teaspoon
Dried oregano (optional) – 0.5 teaspoon
Sugar – 1 pinch
Salt to taste
Directions
Peel the onion and cut into half rings.
Heat a frying pan with oil (1 tablespoon). Fry the onion over medium heat until transparent and light golden brown, adding a pinch of sugar.
Cool the fried onions (transfer them to a separate bowl for this) and then place them in the blender bowl. Add a pinch of salt, grape vinegar, mustard.
Add parsley, 2 tablespoon. tablespoons of olive or other vegetable oil and one raw egg.
Beat in a blender until smooth.
Pour the contents of the blender into another container, add 1 tablespoon. a spoonful of sour cream and oregano (if desired, you can skip it). Mix.
Cut the fish fillet (slightly salted the thawed fish) into convenient pieces.
Place the fish pieces in the prepared sauce and leave for 10-15 minutes.
Cut one tomato into slices, the other into halves.
Cut the lavash sheets into 4 pieces. Put a tomato circle on each part of the pita bread, it – a piece of fish in sauce, a little more sauce on top, and a half of a tomato circle.

Wrap the pita bread with the contents in an envelope.
Cover the baking dish with parchment paper and put the lavash envelopes with fish and tomatoes into the baking dish (always with the seam down).
Prepare the pouring sauce. To do this, beat the egg with a whisk, adding a pinch of salt. Add 2 tbsp of sour cream. Mix.
Grate cheese on a coarse grater, add to the sauce, and mix thoroughly.
Grease the fish "pads" with the resulting thick cheese mass. Send the form to the oven preheated to 180 degrees. Bake the fish in pita bread for 30-40 minutes, until a bright golden crust is formed.

Fish baked in pita bread with tomatoes are ready.
Enjoy your meal!
Also Like
Comments for "Fish Baked in Pita Bread with Tomatoes"