Fried Eggs on Pita Bread, with Cheese and Tomatoes
by Editorial Staff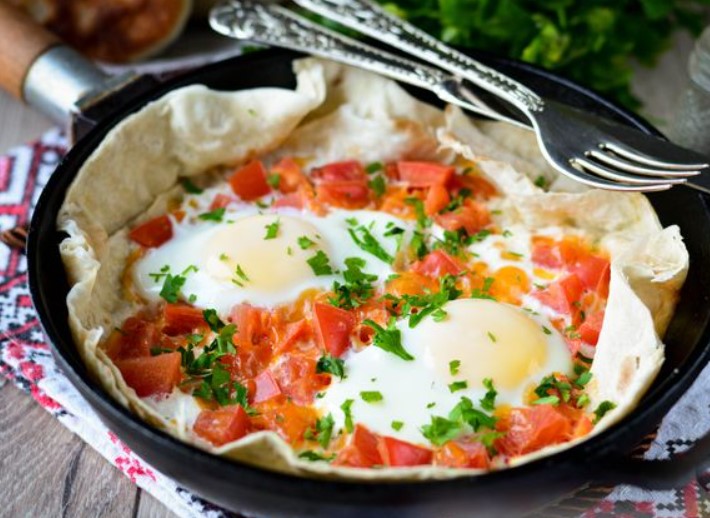 Bright, mouth-watering scrambled eggs with cheese and tomatoes – this is already insanely delicious. And if you cook it on pita bread, then such a simple, quick and very beautiful dish will become even better.
Ingredients
Thin lavash – 2 pcs.
Hard cheese – 40 g
Tomatoes – 50 g (1/2 pc.)
Eggs – 2 pcs.
Butter – 25 g
Salt to taste
Ground black pepper – to taste
For filling (optional):
Fresh parsley – 1-2 branches
Directions
Prepare all the ingredients for making scrambled eggs on pita bread.
Round pita bread can be replaced with oval or rectangular sheets and cut out of it with a lid or plate two circles to the size of the bottom of the pan. It is better to remove the butter from the refrigerator first.

Grease each sheet of pita bread with softened butter on one side.
Place one pita on top of the other so that the oiled side of one pita touches the unoiled side of the second.
Place the pita bread in a skillet with the oiled side facing down. It will be beautiful if the pita bread will slightly go beyond the sides of the pan.
For the filling, grate the hard cheese and cut the tomatoes into cubes.
Stir in the cheese and tomato filling and place on top of the pita bread. Put the pan on minimum heat.
Make two small "holes" in the filling and drive in the eggs. Season with salt and pepper to taste.

Cover the scrambled eggs with tomatoes and cheese with a lid and fry over low heat for about 6-7 minutes, until the eggs are cooked as desired.
Bright and delicious scrambled eggs on pita bread are ready. If desired, sprinkle with finely chopped parsley when serving.

Enjoy your meal
Also Like
Comments for "Fried Eggs on Pita Bread, with Cheese and Tomatoes"