Scrambled Eggs with Tomatoes and Onions in Pita Bread (in a Pan)
by Editorial Staff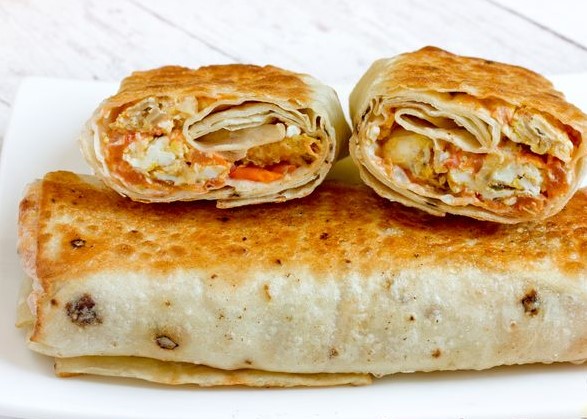 Appetizing "a la shawarma" – lavash rolls with a juicy fried egg filling with tomatoes and onions. Such scrambled eggs and lavash are prepared in a pan quickly and easily. Very satisfying and delicious breakfast or snack, so feel free to take the recipe into service!
Cook: 25 mins
Servings: 2
Ingredients
Eggs – 3 pcs.
Thin lavash – 1 pc.
Tomato (large) – 1/2 pc. (or 1 small)
Bulb onions – 1/2 pc.
Ketchup – 1 tbsp
Mayonnaise – 1 tbsp
Salt to taste
Ground black pepper – to taste
Sunflower oil (for frying) – 50 ml
Directions
Peel and cut onions into small cubes. Heat the sunflower oil in a skillet and fry the onion until transparent. Cut the tomato into slices.
Add the tomato to the onion. Continue sautéing the onion and tomato over high heat for about 2 minutes. Then break the eggs into a frying pan, salt and pepper them.

While stirring, fry the eggs with tomatoes and onions until tender. The fire should be above average.
Transfer the scrambled eggs to a plate and let cool (the hot filling will soften the pita bread and it may tear when rolled).
Cut thin large pita bread into two halves – we get two rolls. Or use two small pita bread. Take one half of the pita bread and step back a little from the center, brush part of its surface with ketchup and mayonnaise (use half the total). Put half of the egg filling on the greased part of the pita bread.

Roll the pita bread into a tight roll, like shawarma. Form the second roll, the remainder of the omelet, and the pita bread in the same way.
Heat the sunflower oil in a frying pan and fry pita rolls with scrambled eggs on both sides until a beautiful golden crust. Scrambled eggs with tomatoes and onions in pita bread are ready.
Serve hot pita rolls with scrambled eggs and tomatoes.
Enjoy your meal!
Also Like
Comments for "Scrambled Eggs with Tomatoes and Onions in Pita Bread (in a Pan)"