Fried Eggs in Pita Bread with Sausage, Tomato and Cheese
by Editorial Staff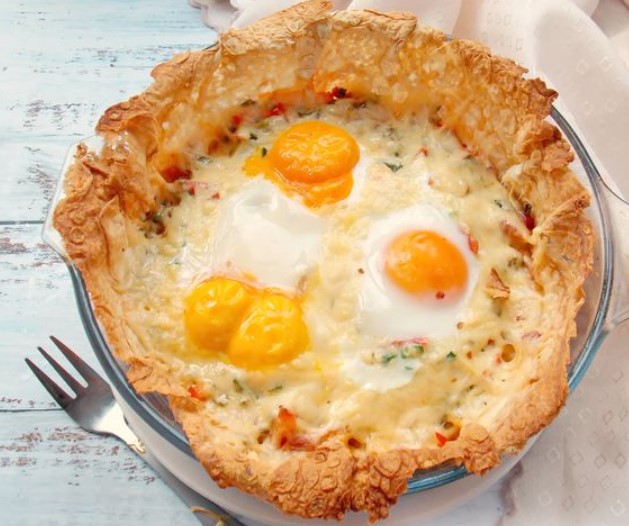 Simple and interesting scrambled eggs in a cute "basket" of lavash with delicious filling. Sausage, juicy tomatoes and melted cheese are always great companions for scrambled eggs. Lavash gives the dish a beautiful shape and an unusual look.
Cook: 35 mins
Serving: 3
Ingredients
Eggs – 3 pcs.
Thin lavash – 1-2 pcs.
Smoked sausage – 100 g
Tomato – 100 g
Hard cheese – 100 g
Ketchup – 2 tbsp
Green onions – 10 g
Vegetable oil (for lubricating the mold) – 1 teaspoon
Salt to taste
Ground black pepper – to taste
Directions
Prepare all the ingredients you need.
Turn on the oven to heat up to 200 degrees.

Grease a baking dish with butter and cover with pita bread so that its edges hang slightly from the edges of the baking dish.
Lubricate the bottom of the pita bread with ketchup.
Cut the sausage into thin strips and place on top of the ketchup.
Wash the tomato, dry it and cut into strips. Place the sliced ​​tomato on top of the sausage. Pepper.
Finely chop the green onion and spread over the tomatoes. Grate the cheese on a coarse grater and put on top of the onion.
Gently break the eggs into a form with a pita basket with sausage, tomato and cheese. I got one egg with two yolks. Season the eggs with salt

Cook the eggs in pita bread in the oven at 200 degrees for 15 minutes.
Remove the cooked eggs in pita bread from the oven and serve immediately (you can directly in the form).
Or cut the eggs in the pita bread before serving into portions.

Enjoy your meal!
Also Like
Comments for "Fried Eggs in Pita Bread with Sausage, Tomato and Cheese"