Fried Eggs in a Bagel with Sausages and Cheese
by Editorial Staff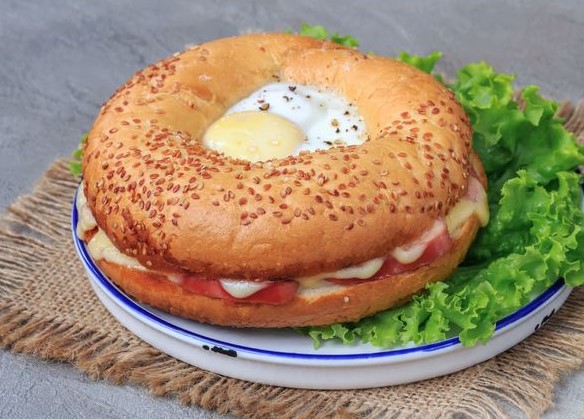 A hot bagel sandwich with scrambled eggs, sausages, and cheese is an unusual, hearty, and tasty breakfast option with familiar ingredients that the whole family will enjoy. Try it!
Cook: 20 mins
Servings: 4
Ingredients
Bagels with sesame seeds (yeast) – 4 pcs. (400 g)
Eggs – 4 pcs.
Sausages (mini) – 300 g
Hard cheese – 200 g
Vegetable oil – 1.5 tbsp
Salt – 4 pinches (to taste)
Ground black pepper – 4 pinches (to taste)
For the filling (optional):
Lettuce leaves – 4 pcs.
Directions
Cut the bagels in half lengthwise. Cut the sausages and cheese into thin slices.

Grease a frying pan with vegetable oil and heat over medium heat. Place the top of the bagel, cut side down, in a skillet, reduce heat to low and fry for 30-40 seconds until the crumb is slightly browned. Then remove the top of the bagel onto a plate and set aside.
Place 9-12 sausage slices and the bottom of the bagel, cut side down, in a skillet. Fry for 1-2 minutes for the sausages and bagel to lightly brown and warm.
Flip the bottom of the bagel, cut up, and place the toasted sausage slices on the crumb.

Place the slices of cheese on top of the sausages. Cover the cheese with the top half of the bagel you fried earlier.
In a cup or small container, gently break one egg, being careful not to damage the yolk. Place another 3-5 sausage slices in the hole in the center of the bagel.
Transfer the egg to the well in the center of the donut. Pour 3-4 tablespoon into the pan. tablespoons of cold water and cover the pan with a lid. The water will boil and turn into steam, under the influence of which the fried eggs in a bagel with sausages and cheese will be cooked. The fire should be small so that the water boils and the bagel does not burn. Cook the eggs in a bagel for about 5-6 minutes, until the eggs are cooked to the desired degree. If the water evaporates and the egg is not yet ready, add another 1 tablespoon to the pan. spoon of water and continue cooking.
Sprinkle the egg with a pinch of salt and black pepper. Remove the hot egg, sausage, and cheese bagel onto a plate. Repeat the process with the remaining bagels and filling.
Garnish the serving plate with a salad leaf if desired. Place the bagel sandwich with egg, sausages, and cheese on a lettuce leaf and serve.
Enjoy your meal!
Also Like
Comments for "Fried Eggs in a Bagel with Sausages and Cheese"