Fried Eggs in Spaghetti and Sausage "Nests"
by Editorial Staff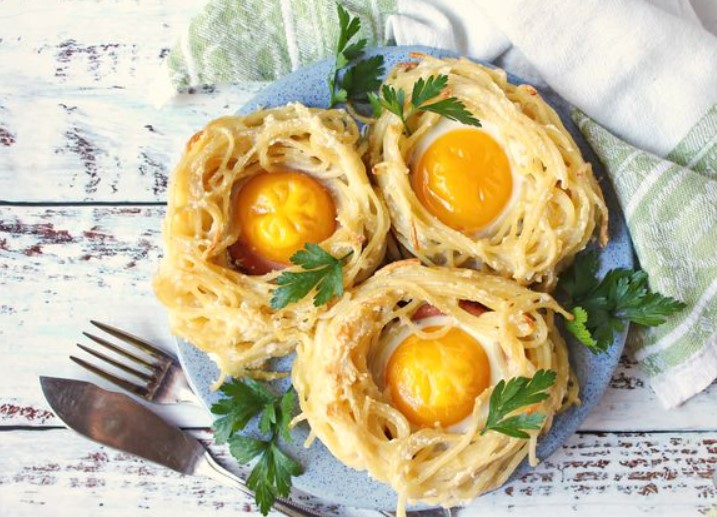 An original dish made from simple products – baked "nests" of pasta, sausage and eggs. Such beautiful "nests" are prepared quite simply and not for long enough. Excellent hearty breakfast!
Cook: 45 mins
Servings: 3
Ingredients
Eggs – 3 pcs.
Boiled sausage – 3 slices (100-150 g)
Pasta (spaghetti or long vermicelli, noodles) – 90 g
Salt to taste
Butter – 50 g + for greasing the mold


For filling (optional):

Fresh parsley – 1-2 branches
Directions
Prepare foods from the list.
It is best to use boiled sausage such as "Doctor" or "Amateur" – a thin circle for each "nest".

Pour about 1-2 liters of water into a saucepan, add salt. Set to maximum heat and bring to a boil. Slowly lower the spaghetti into boiling water without breaking. Reduce heat to medium, stir and cook pasta for 10-12 minutes, until tender. Then fold in a colander, let the water drain completely.
In a deep bowl, combine prepared spaghetti and about half of the butter (25-30 g), stir.
Divide the eggs into whites and yolks. Remove the yolks – they will be needed later. Beat the egg whites with a mixer until stiff foam.
Add the beaten egg whites to the pasta bowl.
Stir gently so that all the pasta is covered with protein.
In a skillet over medium heat, melt the remaining butter (20-25 g). Place the sausage slices and fry on one side for about 1-2 minutes. During the frying process, the sausage will acquire the shape of a "cup".
Turn on the oven to heat up to 180 degrees. Grease a baking dish with oil. Place the sausage slices in a mold. If the sausage circles are large, spread out the pasta and form nests right on top of them so that there are indentations inside. If the sausage is small in diameter, form nests around the sausage slices and around the edge.

Gently place the yolk into each cavity.
Send the dish to the oven, preheated to 180 degrees, and bake for about 25 minutes.
Fancy "nests" of spaghetti with sausage and egg are ready. Garnish with herbs and serve.

Enjoy your meal!
Also Like
Comments for "Fried Eggs in Spaghetti and Sausage "Nests""